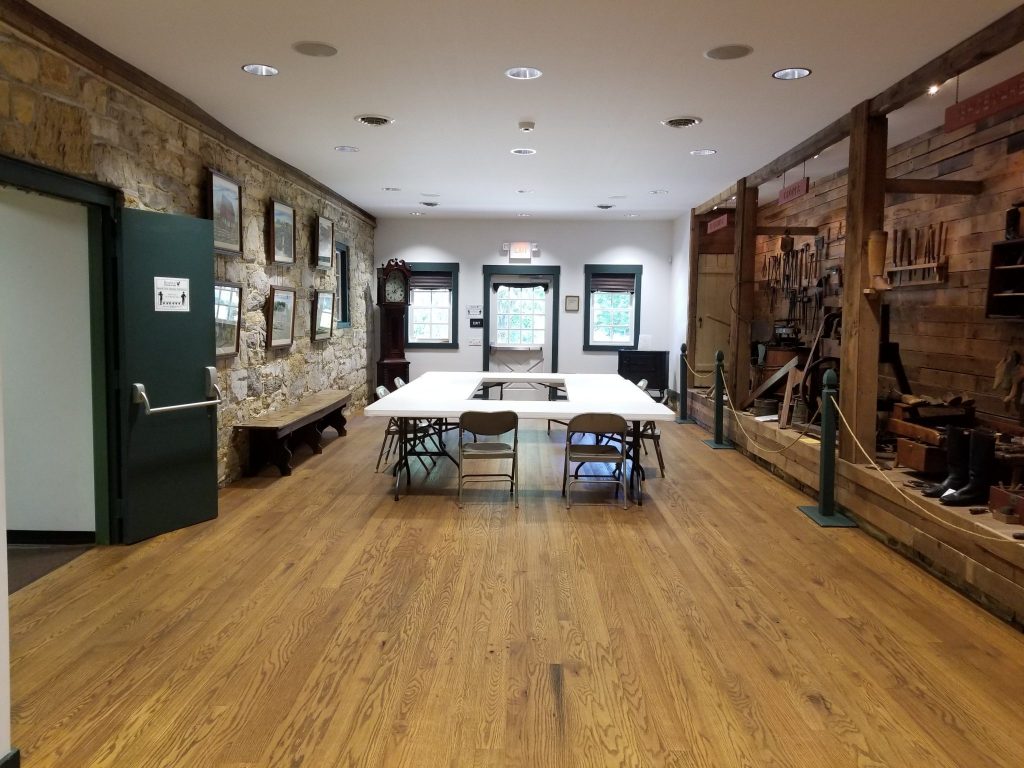 Indoor Space, Rustic Appeal
Renfrew's converted wagon shed in the Visitors Center barn is a great space for meetings, parties, showers, and other small events. The rustic atmosphere of the exposed limestone wall, reclaimed wood floor, and Tradesmen Tools exhibit in the former corn crib lends itself to a one-of-a-kind gathering.
The Wagon Shed Room has its own dedicated entrance which can be closed off from the main gallery immediately adjacent to this space for privacy. Or, open the double doors and allow your guests access to peruse our permanent exhibit of Bell Family Pottery and Pennsylvania-Kentucky Longrifles. The choice is yours.
Rental Options
$50 for the first two (2) hours, $10 each additional hour
Valid only during Regular Business Hours, year-round Monday-Friday 9:00am-4:00pm and on Saturdays 1:00-4:00pm during tour season from April-October. Renfrew reserves the right to deny requests based on use required for institutional programming or needs by our organizational partners.
$75 for the first two (2) hours, $10 each additional hour
Rate for Non-Business Hours applies to any rentals requested outside the times listed above. Subject to institutional calendar and staff availability.
Audio-Visual Equipment, $10 per hour
Use of Renfrew's projector, screen, and sound equipment may be added to your Wagon Shed Room rental. Just provide our staff with information regarding your needs and we can set the room prior to your arrival. Please bring your own laptop or tablet.
Check Availability
Refer to the calendar below for available dates. Please call us at (717) 762-4723 or email info@renfrewmuseum.org for more information.