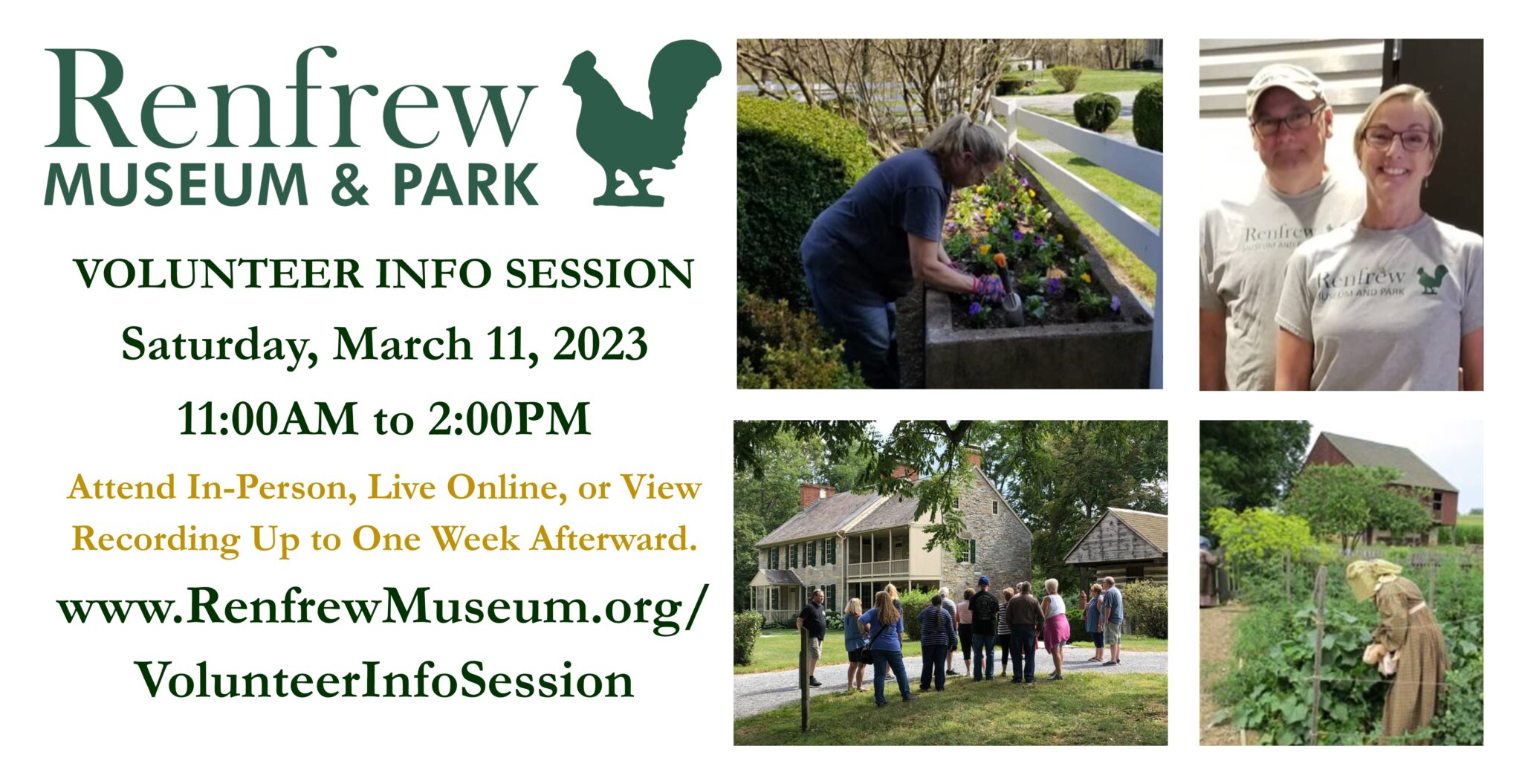 Volunteer at Renfrew!

Renfrew is seeking volunteers!  We're looking for friendly, community-minded people to help us provide great experiences to our visitors year-round at our historic Pennsylvania-German Farmstead. Volunteers at Renfrew Museum and Park assist professional staff with a wide variety of tasks including our popular programs and events, artifact collections and exhibits, interpretation, tours, gardening and grounds keeping, guest engagement, outreach, and so much more! If you're interested in learning how you can help us advance Renfrew's mission, please review the opportunity areas below. Thanks for your interest!
Renfrew Museum and Park relies on the services of many dedicated volunteers to help fulfill its mission to the community. Currently, there are volunteers participating at Renfrew in the following areas:
Collections & Accessions
Renfrew invites volunteers to assist with the cataloging and inventorying of its extensive collection of early American decorative arts, farm implements, and ephemera. Collections management involves both hand-written and/or computer work, careful handling and marking of objects, help with creating exhibits, and more. Assignments are based on the interest and skill level of the volunteers who participate. Renfrew staff will instruct collections volunteers in best practices for the proper care and storage of museum artifacts and archives. Ongoing research is also a large part of ensuring we uncover the amazing stories our collections have to tell so we can share them with our guests. Volunteers with an interest in scholarship, presentation, and archival management are also very welcome.
PR & Marketing
Renfrew is Waynesboro's best kept secret – but we don't want to be! Help us spread the word about all the wonderful amenities, programs, events, and special experiences Renfrew Museum and Park has to offer. Volunteers help with newsletter and campaign mailings, assist with membership recruitment, and serve at variety community events to promote our resources and bring awareness to new audiences.
Programs & Events
Renfrew host thousands of visitors each year at a variety of engaging programs and events. From lectures and workshops, to our summer concert series, Farmstead Taste & Tours, and annual signature events like Opening Day, Oktoberfest, and Christmas on the Farm – help is needed in planning and execution so our visitors enjoy the best experience possible here at Renfrew.
Property & Grounds
Renfrew's 107-acre property is carefully maintained by our talented maintenance staff of three, but they can always use extra help! Volunteers with construction, landscaping, gardening, and maintenance experience or aptitude are very welcome. Renfrew regularly hosts volunteer work days to weed, clear brush, and keep our beautiful park looking its best.
Tours & Interpretation
Since its opening in 1975, Renfrew has relied on the services of volunteer tour guides, or docents, to greet the visiting public and show them through Renfrew Museum. Volunteer guides are trained by the museum's professional staff to develop their own hour-long tour of the Visitors Center and Royer Farmstead buildings including the Summer Kitchen and Museum House. Training also includes content on the history of the property's many other structures and features, collections items on exhibit, and broader themes of preservation and stewardship. Museum tours are offered on the hour at 1:00, 2:00, and 3:00pm Wednesday through Saturday during Renfrew's regular season with other opportunities at our many special events. Our tour guides typically work one to two shifts, or between three and six hours, per month. There are currently no minimum service commitment requirements to be a docent at Renfrew. Dress code for public tours is business casual. Docents are not required to wear period clothing at special events unless they would like to.
Some of our guides are already skilled at, or are interested in learning, the art of living history interpretation. After successfully completing docent training and becoming comfortable with giving standard tours, these individuals have the opportunity to receive further instruction in authentically presenting historic activities such as heirloom gardening, historic cookery, period crafts, light agricultural work, etc. to Renfrew's guests. Living history interpreters are provided with period clothing and taught how to present themselves appropriately as a representation of an individual from the early nineteenth century. Renfrew subscribes to third-person interpretive methodology so visitors have the benefit of both an authentic visual experience along with the ability to speak candidly to a 21st-century person who can help them make relevant connections to their own modern-day life. As Renfrew seeks to depict life on a historic farmstead, living history interpreters can expect to often be outdoors, in a variety of weather conditions, stand, walk, and bend frequently, and get their hands dirty.
You can make a difference! For more information, please register for our upcoming Volunteer Info Session on Saturday, March 11, 2023.
Feel free to contact the Museum at 717-762-4723 or e-mail us at info@renfrewmusuem.org.