2023 Dates Sold Out.
See you in 2024!
HISTORIC HEARTH COOKING LESSONS
$300.00 for a 3-hour session
Select Dates Only, 10:00AM to 1:00PM
One to Four Participants
Pre-registration is required. 
HOW TO BOOK:
Click on your desired date and follow the prompts to pay on our secure online portal. A member of our staff will be in touch following your registration to discuss your menu, special dietary or allergy restrictions, provide additional information, and answer any questions you may have. We look forward to cooking with you!
Private Lessons for up to Four Guests
Enjoy an intimate, hands-on culinary experience inside Renfrew's 1814 Summer Kitchen. Guests will be taught the basics of early nineteenth-century open hearth cooking techniques by preparing their own period meal under the guidance of our domestic life historians in period dress. Menu selections reflect the seasonal ingredients available to local families like the Royers during the early nineteenth century and can be tailored to participants' dietary needs. You will learn about historic hearth equipment, how it works, and use it safely to create a delicious and hearty repast. Nothing tastes better than a hearth-cooked meal made by your own two hands! Select from one of the dates listed below for your personalized instruction in historic cookery today.
PROGRAM NOTES:  Lessons must be reserved by a party of no more than four (4) people.  Sold by the package for up to four (4) guests at a total rate of $300 ($75 per person at maximum capacity). Individual tickets not available. Flat rate of $300 applies regardless of number in your group. Children ages ten and over are welcome with a responsible adult. Entire fee of $300.00 by credit card is due at the time of booking and may be refunded for cancellations up to one (1) week prior to the scheduled lesson. Fee is forfeited if cancellation occurs less than seven (7) days before the class.  Fee will be refunded for cancellation in extreme cases such as a medical emergency, severe weather conditions, temporary closure of Renfrew's business operations, or any other unforeseen event at the discretion of museum administration.  Please be advised that classes are dependent on staff availability. Renfrew reserves the right to reschedule your class to a mutually acceptable date should instructors, for any reason, become unavailable on your preferred date.
Participants are encouraged to wear long sleeves and long pants in natural fibers. Avoid hairspray or scented body products that may contain alcohol or other flammable materials. You are welcome to bring your own apron if desired. Period hot-pads, utensils, drinking vessels, and dishware will be provided. Participants may bring their own water bottle, if desired. Photographs are encouraged! No video, please.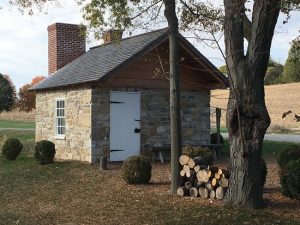 2024 dates to be announced in January.
Please check back later.
More Foodways Programming at Renfrew