Upcoming Events at Renfrew
RENFREW HISTORIC HANDIWORK CIRCLE
Third Saturdays from 1:00-4:00pm*
Museum House Porch in Fair Weather / Visitors Center if Conditions are Poor
Free Admission
Join fellow crafters and handiwork enthusiasts for this informal, drop-in meet-up group. Bring your portable, historically-inspired projects to work on within our beautiful surroundings. Examples could include sewing, knitting, crochet, beadwork, weaving, spinning, sketching/drawing, wood whittling, paper quilling, crewelwork, needlepoint, embroidery – the possibilities are endless and the choice is yours! Enjoy a pleasant afternoon in the company of creative folks.
*May be canceled due to special events. Check museum calendar or call (717) 762-4723.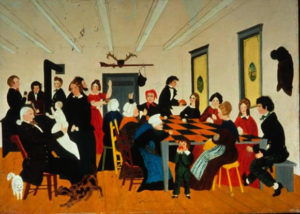 ROYER FARMSTEAD DAY – "Walk Back in Time"
Saturday, August 10, 2019 from 11:00am to 4:00pm
All buildings on the property will be open and interpreters will be on hand to answer questions guests may have.  The public will have access to all the outbuildings for walk through tours with paid admission.  Your historic experience on site that day also includes "A Community of Quilts Old and New Quilt Show" presented by the Buchanan Trail Quilters .
[divider]
4th ANNUAL OKTOBERFEST
Saturday, October 5, 2019 from 4:00-9:00pm (Doors open at 3:00pm)
Admission: $45 per person with advance purchase 
*The Event will be held at the Eagles Club Inc., 16 East Main Street, Waynesboro, PA.
Join us for this Waynesboro community celebration of our German heritage with delicious food, festive music, and steins of cold beer. This traditional event will have a distinctive Renfrew feel as we celebrate the German roots of the original family that worked our land. Event includes an auction to benefit Renfrew Museum and Park. All attendees must be 21 years of age or older and will be carded.
For more information, including our dinner menu, please click here.
[divider]
26TH ANNUAL PUMPKIN FESTIVAL AT RENFREW MUSEUM AND PARK
Saturday, October 19, 2019 from 11:00 am-4:00pm 
Presented in Partnership with The Institute at Renfrew
Admission: Adults $10, Students $4, and children 4 and under are free.    
(Includes lunch of soup, bread and cider)
Great fall fun for the whole family.  Don't miss it!  Learn more about Pumpkin Fest by clicking here.
[divider]
CHRISTMAS ON THE FARM AT RENFREW
Three Days Only:
Friday, December 6, 2019 from 5:30 -8:30 pm
Saturday, December 7, 2019 from 2:00-8:00 pm
Sunday, December 8, 2019 from 1:00-5:00 pm
Admission: $8 for adults, $7 seniors, $5 ages 7-18, Free ages 6 & under.  Free to Renfrew Museum Members
See the Museum House beautifully decorated for the holiday and enjoy complimentary refreshments. Make it a family tradition by creating special Christmas memories with the ones you love.
Learn more about this seasonal favorite by clicking here.
[divider]
Renfrew Museum and Park relies on the services of many dedicated volunteers to help fulfill its mission to the community. We are always in need of people willing to volunteer their services to help during our official events. If you would be interested in volunteering email kim@renfrewmuseum.org.