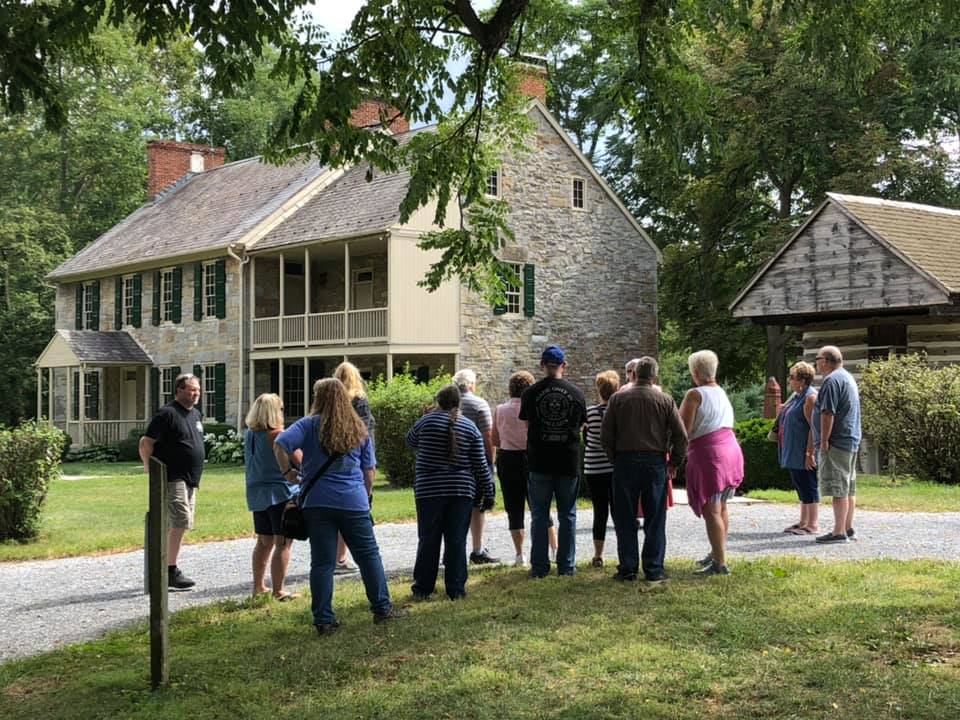 Renfrew Museum and Park is a great place for a fun and educational experience! Our scenic 107-acre historic farmstead lends itself to an enjoyable day out for guests of all ages and interest levels.
Public, walk-in tours of the Royer Farmstead are available with our knowledgeable and engaging docents from mid-April through mid-October. Tours depart from the Visitors Center at the top of the hour Wednesday-Saturday at 1:00, 2:00, and 3:00pm. Admission may be purchased in-person anytime during regular business hours on the day of your visit. We recommend arriving ten (10) to fifteen (15) minutes prior to your desired tour time to allow ample opportunity to park and purchase your admission. Note: If you are intending to bring a group of ten (10) or more, please consider a pre-arranged group tour to allow for a more customized experience.
ADMISSION FEES:
General Admission (ages 13-65):
$12 per person
Seniors (age 65+): $10 per person
Children (ages 3-12): $6 per person
Children (ages 2 & Under): Free 
WHAT TO EXPECT ON YOUR TOUR
Join Renfrew for an overview tour of our 300+ year history on the Royer Farmstead. Firmly rooted in our Pennsylvania German heritage, Renfrew's story is quintessentially American and closely mirrors the narrative of our young nation with central themes of industriousness, ingenuity, and innovation. By the close of the nineteenth century, the property boasted two successful farmsteads, a grist mill, lime kiln, and several outbuildings. Later occupants of the site placed their own marks on the landscape, resulting in a varied built environment with unique structures spanning the Federal to Edwardian Eras. Renfrew's final private residents, Edgar and Emma Nicodemus, lovingly restored the property which was bequeathed to the Borough of Waynesboro as a gift to its citizens following Emma's death in 1973.
Visitors will tour the 1812 Royer House, furnished with a host of interesting decorative arts and residential artifacts spanning three centuries; several historic outbuildings, including the summer kitchen, milk house, and smoke house, where important everyday tasks took place; and exhibit galleries inside our Visitors Center, a converted Victorian barn, featuring permanent displays of Bell Family historic folk pottery, Pennsylvania-Kentucky longrifles, and tradesmen's tools. Visitors will be introduced to the people who lived and worked at Renfrew over the centuries hearing about the site's earliest settlement in the 18th century, through the farming heritage and intense social and technological change of the nineteenth century, to its restoration by our last private residents. Along the way, visitors will be inspired by authentic stories of ordinary people, just like them, who made their own lasting impact on this historic property.
Arrival: We recommend you plan to arrive about 10-15 minutes prior to the tour start time to purchase admission at the Visitors Center Welcome Desk. At this time, we do not offer a pre-sale option. Please check-in with Renfrew Museum and Park staff. Tours begin on the hour at 1:00pm, 2:00pm, and 3:00pm. While you wait for your tour, we invite you to browse the exhibit galleries and Museum Shop, help yourself to information at the Welcome Desk, and use the restroom as needed.
Accessibility:

Renfrew Museum and Park has limited accessibility.  Many of our walking surfaces on the farmstead and the interiors of historic buildings can pose challenges to those with mobility concerns, those using wheelchairs, canes, or walkers, and families with strollers.  Please be advised that much of the exterior ground surface is gravel or grass, with the exception of paved paths at the Visitors Center, Picnic Grounds, and other select areas. The approach to all outbuildings and the Royer House requires movement over uneven surfaces and steps. Tours require walking and standing for approximately one (1) hour. There is no paved accessible route to the historic buildings at Renfrew.
The Visitors Center, however, is all on one level and allows for easy maneuvering. We will try our best to provide reasonable accommodations for your group's needs to allow for a comfortable experience. We sincerely apologize for any inconvenience.
Special Accommodation

:

 If you or a member of your party requires special accommodation to traverse uneven surfaces during the tour, please call ahead so Renfrew's staff may arrange a golf cart (as available) to transport guests to the doors of historic buildings while on tour. Likewise, seating may also be pre-arranged for guests needing to rest periodically throughout the tour. Please note that standing, walking, and climbing stairs are a part of the full tour experience. Due to narrow doorways and spaces in our historic buildings, please note that strollers must be left outside.
Handicapped Parking:

A designated handicapped parking (currently on a gravel surface) is located near the Visitors Center. Please follow the paved pathway from the handicapped parking area to the east side of the white barn to access the Visitors Center and restrooms.
Toilet Facilities: Prior to your tour, we recommend allowing time for guests to use the toilet facilities. Please note that restrooms are available at the northeast corner of the Visitors Center and portable toilets are located seasonally from mid-April through mid-October at the east end of the park grounds near the pavilion. *Note: Toilet facilities are shared with general park users, and not limited exclusively to your group during their visit.
Bookbags, Personal Accessories, & Emergency Equipment: Please leave bookbags, large bags (excluding medical/emergency packs), lunches (bags, totes, boxes, etc.), non-essential electronic devices, toys, games, personal items, etc. in your vehicle(s). Small carrying bags and purses are permitted. Participants may carry a notebook with pencil (no ink pens), water bottle (tightly closed, no soda, juice, etc.), camera (no flash) with them while on their Royer Farmstead Tour at Renfrew. No food, gum, or candy is allowed in the Visitors Center and historic buildings (please notify Renfrew staff of any special circumstances).
Behavioral Guidelines & Expectations: Please prep your guests ahead of time. Participants must remain with their docent at all times, regardless of the age of the guests. Group organizer is responsible for maintaining orderly and respectful behavior.
The Museum and Visitors Center is a public space; show courtesy and respect for all other visitors.
We encourage you to take lots of pictures, but to protect our artifacts we ask that you please don't use flash. No personal call, texting, or social media use during your tour, please. No video permitted during the tour.

Speak quietly in large, open areas; do not talk during presentations

For your safety, running, jumping, and other boisterous behavior is prohibited; use caution while around bodies of water and on trails

Many of our walking surfaces are uneven, please watch your step

Do not touch or climb displays and exhibits

Do not go under or behind ropes or stanchions; or open closed doors

Use interactive equipment only as instructed by Museum staff

Do not lean, sit, or write on surfaces of historic buildings, walls, artifacts, etc. If you require seating accommodation, please notify Renfrew Museum and Park prior to your visit.

Do not play with items for sale in the gift shop without intent to purchase

Do not play with water and/or paper goods in the restrooms; do not deposit food or dog waste in restroom receptacles

Water fountains are located at the Visitors Center and Picnic Grounds, please feel free to use them and/or fill personal water bottles; do not play in the fountains or put your mouth directly on the drinking spout

Please respect our site by not littering, picking plant life, throwing objects, climbing fences, removing or stacking rocks, bothering wildlife, etc.

Only adults should select brochures, taking just one per small group

 
No Food & Beverage Service: Renfrew Museum and Park does not have food service available. If bringing food with you, please leave in your vehicle(s) until after your tour has concluded. If you choose to enjoy a meal at Renfrew after your tour has completed, we encourage you to take advantage of the multiple picnic tables in the picnic grounds area and at the Pavilion location (see map below). Please be aware that Renfrew is an active museum and park; other events and usage of the grounds will continue during your visit. There are also many local restaurants to choose from.  If you require recommendations, please speak to a Renfrew staff member.
Waste Disposal: Renfrew Museum and Park is a "carry-in/carry-out" facility. All trash, garbage, refuse, etc. generated (excluding restroom waste, i.e., paper towels, personal hygiene products, etc.) must be removed to a separate location off site. Any waste left by the group or disposal in inappropriate locations (i.e., dog waste stations, bathroom receptacles, in shrubs, behind or near buildings, etc.) may result in forfeiture of visiting as a group in the future. Please plan ahead for the proper removal of your waste and help maintain the natural beauty of Renfrew Museum and Park.