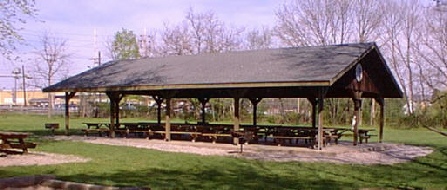 Now Booking Pavilion Rentals for the Current Season! Available mid-April through mid-October only.
Rent Renfrew's Lions Club Pavilion
The Lions Club Pavilion at Renfrew Museum and Park is the perfect spot for informal gatherings. Conveniently located near our Lower Parking Lot off of Welty Road, it features covered picnic table seating for up to 128 guests with concrete floor and electrical hook-up. 
Pavilion rental includes use of the Lions Club Pavilion (see map below) and adjacent green space, located at the eastern end of Renfrew's grounds. The area is located immediately north of the lower parking lot, accessed via the Welty Road entrance. Pavilion contains sixteen (16) picnic tables, which each seat 6-8 people comfortably per table, for an estimated seating capacity of 96-128. Any additional seating, tables, and/or overhead cover desired by the renter is their responsibility. Renfrew does not rent, store, secure, or provide any accessory items.
Pavilion may be booked during Renfrew's tour season, mid-April through mid-October. Rental fee is $100 for the first four (4) hours, $25 for each additional hour. Minimum rental period is four (4) hours (no exceptions) between 10:00am and when the grounds close at dusk ("dusk" changes seasonally, staff will determine time based on date of your event). All members of the rental party, vendor personnel, and guests must be off the property by that point. Full rental time, including set-up and tear-down, must take place within the reserved rental period (no exceptions).
You will be asked to specify the requested length of your rental at time of booking, including set-up and clean-up time. Please plan your event accordingly. *Note: Renfrew reserves the right to deny rental requests based on required use of the Pavilion for institutional programming or requests by our organizational partners.
Pavilion rentals cannot be confirmed until date is verified and security deposit is received (cash, check, debit or credit cards accepted). *Note: All rentals are subject to availability on a first come, first served basis. A security deposit equal to the total rental fee is due at time of booking which is refundable if Pavilion is returned in good condition.
Security Deposits & Payment of Fees: Renfrew accepts tender in the form of cash, check, debit or credit card. Reservations are on a first come, first served basis. Security deposits are required and are equal to the amount of each rental. Security deposit must be paid when reservation is made to secure your event date. Renfrew cannot pencil in or otherwise complete a reservation until tender is exchanged.
The second amount due, which is for the rental fee itself, must be paid within thirty (30) days of your event. Failure to observe Renfrew's Park Use Policy will result in forfeit of this security deposit. After your event, we will promptly refund your initial security deposit within thirty (30) days, pending an inspection by Renfrew staff of the rental location(s). Any damage or cost of clean-up will be deducted from the security deposit at the discretion of Renfrew Museum and Park.
Cancellation: Renfrew Museum and Park will only issue a refund of security deposit and/or rental fee(s) already paid in the event that the renter cancels no less than fourteen (14) days prior to scheduled event, or if entire park closes for that day, for any reason, at the discretion of Renfrew's staff.
All proceeds from your pavilion rental help support our mission and operations, including keeping our 107-acre park beautiful for your special event. We thank you for considering Renfrew as your rental venue and appreciate your support.
Toilet Facilities: Pavilion rentals include use of nearby public portable toilet facilities as well as public restrooms located in the Visitors Center at the west end of Renfrew Park.

*Note: Toilet facilities are shared with general park users, and not limited exclusively to your party during the rental.

Restrooms located at the Visitors Center will be opened by Renfrew staff at the start of your rental time, and closed at its conclusion.
No alcohol or smoking is permitted at Renfrew: See Renfrew Park Use Policy.
Equipment & Accessories: The rearrangement of picnic tables within the Lions Club Pavilion and/or to adjacent green space is permitted provided that all tables are returned to original configuration at the conclusion of your event. Renfrew staff will not assist in the relocation of picnic tables.
Renfrew does not rent equipment and/or accessories such as chairs, pop-up tents, grills, coolers, table covers, etc. Please plan accordingly. Scheduling for delivery of any accessories by renter or vendor(s) shall be coordinated with Renfrew staff. Renter must provide staff with contact information for all vendors, including food service and caterer, no less than fourteen (14) days prior to the event. Renfrew also is not responsible for securing accessories left on site before or after event. Pick-up/drop-off locations of accessories must be coordinated with staff. Renfrew does not rent, store, secure, or provide any accessory items.
Food trucks or other outside vendors: Must be approved by Renfrew staff with locations identified prior to the event. Food Truck Vendors must have a current Mobile Food Facility License from the Pennsylvania Department of Agriculture and be on file with Renfrew Museum and Park no less than fourteen (14) days prior to the event.
Grilling: Pavilion renters may grill on adjacent grass area provided that grills are located no less than 6′-0″ from the structure. Please refer to Renfrew Park Use Policy for additional information regarding park rules for the safe enjoyment of Renfrew's amenities.
Decorations: Decorations must be limited to your rental location(s) and removed at the conclusion of your event. Please be considerate of Renfrew's historic and natural resources when selecting and installing your decorations. No staples, thumb tacks, nails, screws, glue, or duct tape may be used for decorations in any areas. No glitter, rice, exploding powder, or plastic/paper confetti may be thrown. Do not attach any decorations to historic structures. All decorations must be removed and the area returned to original condition/configuration at the conclusion of your event.
Sound: Please keep the sound level of any electronic equipment such as speakers, public announcement (PA) systems, music, etc. at the lowest level possible for your event, so as not to disturb other people using the park. Your assistance in keeping noise to a minimum is greatly appreciated.
Electrical Hook-Up: Duplex power outlet is located at the Lions Club Pavilion. Staff will show you location at time of reservation.  Renters must provide their own extension cords or generator(s), if desired. Please plan accordingly. Do not overload electrical outlets. Renfrew's staff will not provide renters with use of institutional equipment or access to electrical panels if power is tripped.
Waste Disposal:

 Renfrew Museum & Park is a "carry-in/carry-out" facility. All trash, garbage, refuse, etc. generated by the rental event (excluding restroom waste, i.e., paper towels, personal hygiene products, etc.) must be removed by the renter at its conclusion to a separate location off site. Any waste left by the renter, vendor personnel, guests, etc. or disposal in inappropriate locations (i.e. dog waste stations, bathroom receptacles, in shrubs, behind or near buildings, etc.) may result in forfeiture of security deposit. Please plan ahead for the proper removal of your waste.
Photography: Permission for professional photography is included with all rental packages for the duration of your rental.  While most people are respectful of pavilion rentals, staff cannot clear designated areas or guarantee that spaces around the park will be vacant at the time of your photo session. Please share the park and building exteriors with everyone who is present enjoying Renfrew on the day of your event.
Unauthorized vehicles are not permitted outside of designated parking areas. Renters may not drive to photograph locations on park grounds.  Pavilion renters must travel to photograph locations on foot (no exceptions).
Renfrew's Photo Policy: Photography passes are not required for professional photographers whose clients have rented Renfrew facilities, during the hours of the rental. Photographers may not interfere with any Renfrew activity, program, or event that is being held or conducted at Renfrew. Photographers may be asked to move to another area by Renfrew staff if it is deemed necessary. Renfrew reserves the right to halt any photo shoot that it deems to be inappropriate or disruptive. Please check Renfrew's schedule of programs and events to prevent any possible conflicts.
Certificate of Insurance: Use of Renfrew by organized groups holding public events require a Certificate of Liability Insurance. Certificates must name both "Renfrew Committee, Inc." and "Borough of Waynesboro" as additional insured.  The CSL (combined single unit) is $1,000,000 dollars to cover Premises and Operations liability for Bodily Injury and Property Damage. If it is determined that insurance coverage is necessary to hold your event at Renfrew, your reservation will not be approved until the certificate is received at the Renfrew Museum & Park office. Please note that the need for insurance generally does not apply to private party events, such as pavilion rentals by family groups. Companies, organizations, non-profits, etc., generally must have a certificate on file with Renfrew Museum and Park. If there is any question as to the need for Liability Insurance, the request will be reviewed by Renfrew Committee, Inc., the managing board of Renfrew Museum and Park, or their duly appointed representative.
Rental Locations Map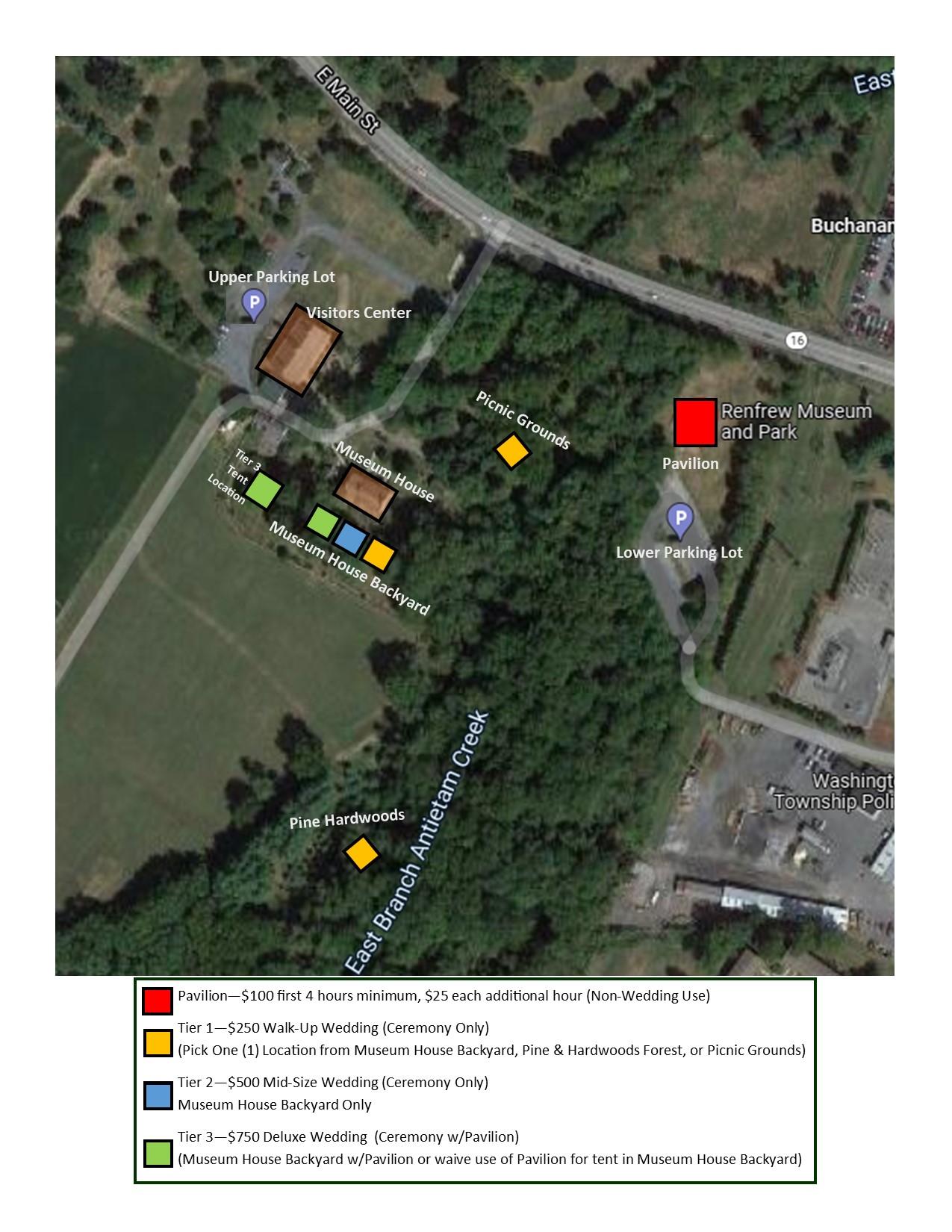 Check Availability
Please refer to the calendar below for availability. Call us at (717)762-4723 or email info@renfrewmuseum.org for more information and date confirmation.