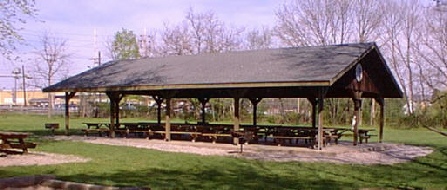 Rent Renfrew's Lions Club Pavilion
The Lions Club Pavilion at Renfrew Museum and Park is the perfect spot for informal gatherings. Conveniently located near our Lower Parking Lot off of Welty Road, it features covered picnic table seating for up to 150 guests* with concrete floor and electrical hook-up. Total guest count dependent upon COVID-19 assembly restrictions. Check with Renfrew staff for current requirements at time of booking.
AT THIS TIME, WE ARE NOT YET ABLE TO RESERVE DATES & PROCESS BOOKINGS FOR 2022. PLEASE CONTACT US AFTER JANUARY 1, 2022 IF YOU WISH TO REQUEST A DATE FOR NEXT YEAR. THANK YOU.
Pavilion rentals include use of nearby public portable toilet facilities as well as public restrooms located in the Visitors Center at the west end of Renfrew Park. (Please note that toilet facilities are shared with general park users, and not limited elusively to your party during the rental.)
Grilling is permitted outside the Pavilion at a safe distance from the structure. Please refer to Renfrew's Park Use Policy for additional information regarding park rules for the safe enjoyment of Renfrew's amenities.
Pavilion rentals cannot be confirmed until date is verified and payment received (cash, check or credit cards accepted). Please refer to the calendar below for availability.
Rental fee is $50 for the first four (4) hours, $10 for each additional hour.  Minimum rental period is four (4) hours. You will be asked to specify the requested length of your rental at time of booking, including set-up and clean-up time. Please plan your event accordingly. Renfrew reserves the right to deny rental requests based on required use of the Pavilion for institutional programming or requests by our organizational partners.
All rentals are subject to availability on a first come, first served basis. A security deposit equal to the total rental fee is due at time of booking which is refundable if Pavilion is returned in good condition.
Check Availability
Please refer to the calendar below for availability. Call us at (717)762-4723 or email info@renfrewmuseum.org for more information and date confirmation.