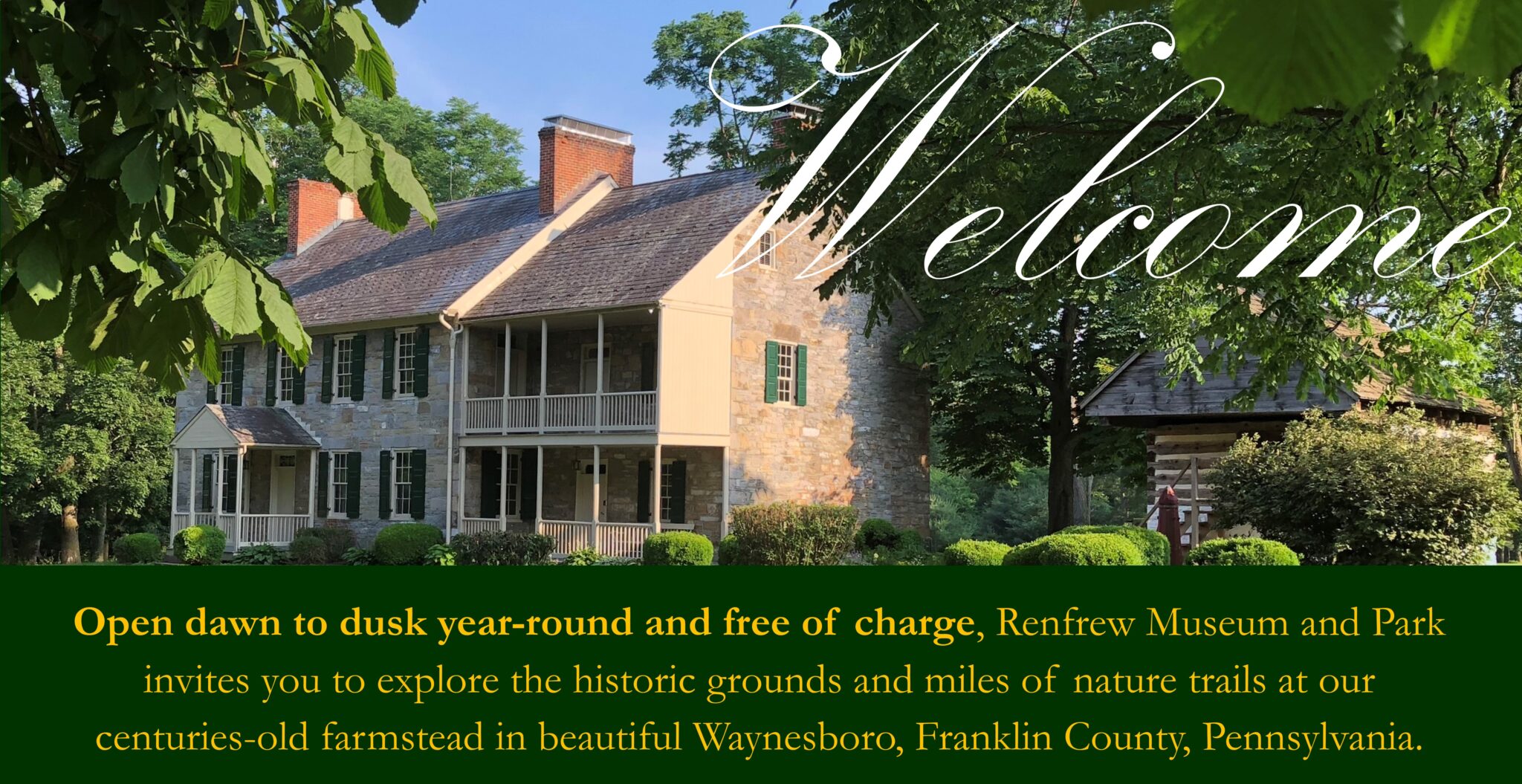 Hours of Operation
GROUNDS: Open Daily, Year-Round, from Dawn to Dusk
VISITORS CENTER: Located in the big white barn, our Visitors Center is home to Renfrew's Gift Shop, Exhibit Galleries, Offices, & Restrooms.
Visitors Center Summer Hours: Open Mid-April thru Mid-October; Wednesday-Friday from 9:00am to 4:00pm; Saturday from 1:00pm to 4:00pm; Closed Sunday, Monday & Tuesday
Farmstead Tours: Offered Mid-April through Mid-October, Wednesday-Saturday at 1:00, 2:00, & 3:00pm
Visitors Center Winter Hours: Open Mid-October thru Mid-April; Tuesday-Friday from 9:00am to 4:00pm; Closed Saturday, Sunday, & Monday. Historic Buildings Closed for the Season. Farmstead Tours resume Mid-April.
Directions
Renfrew Museum and Park is located at 1010 E. Main Street, Waynesboro, PA 17268. Located about 25 miles southwest of Gettysburg, PA in Franklin County, Renfrew can be accessed from the PA-16 exit on major highways including I-81 and US-15. Our main entrance is located on the south side of PA-16/Buchanan Trail/Main Street, across from the Buchanan Chevrolet dealership.
Parking
Parking is located in either the Visitors Center Lot, immediately behind the big white  barn near PA-16/Buchanan Trail/Main Street OR in the Lower Lot, located off of Welty Road accessed by a drive beside the Washington Township Police Station. Handicapped parking is available in both parking lots.
Visitors Center Entrance
Upon arrival, enter using the main drive off of PA-16 (Buchanan Trail/Main Street). Park in the gravel lot located immediately north (behind) of our Visitors Center which is inside the big white and green horse barn. Follow the concrete path adjacent to the handicapped parking area to the opposite(east) side of the barn. Our main entrance is located directly across from the flagpole.