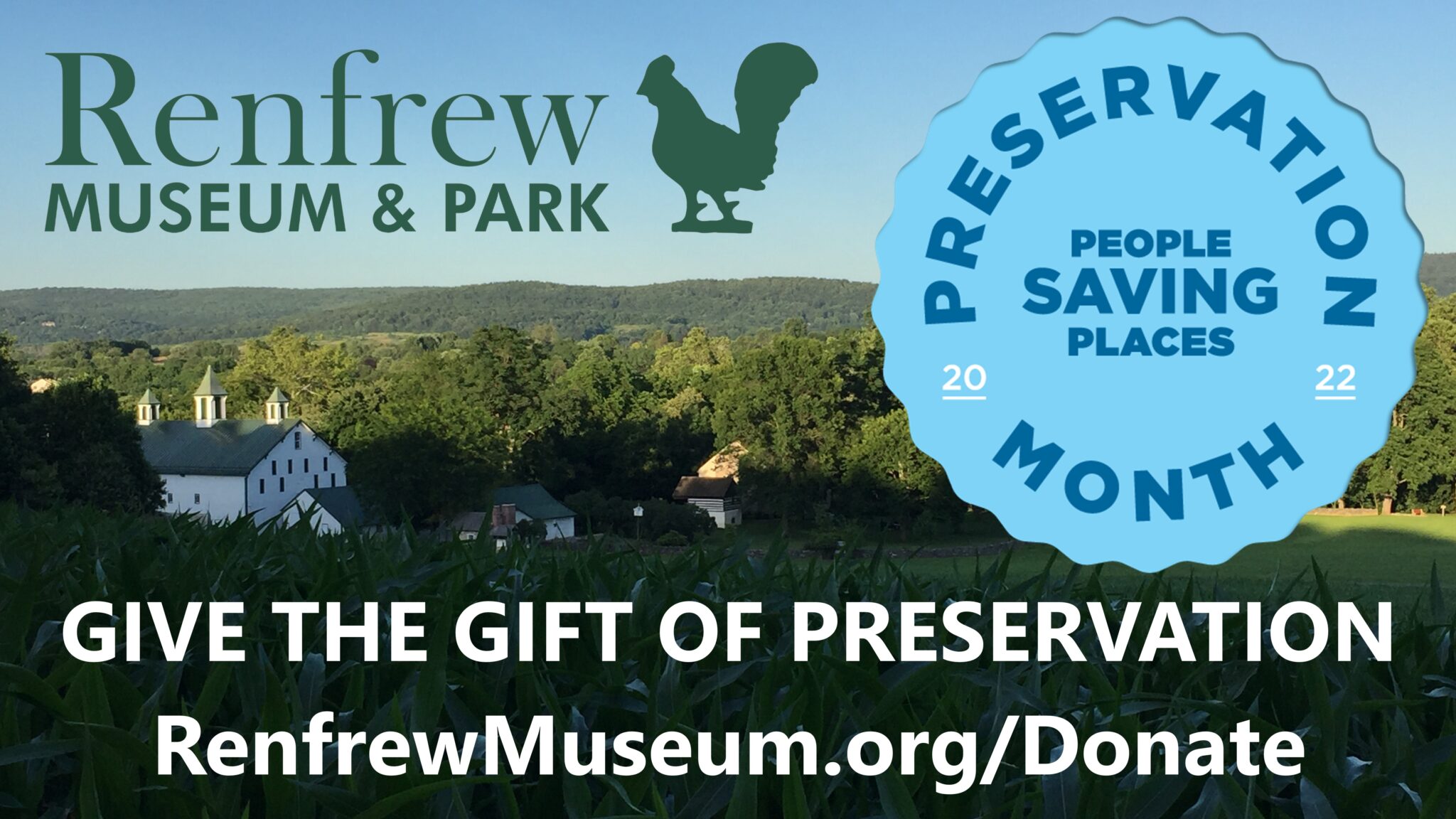 May is Historic Preservation Month!
Here at Renfrew Museum and Park, we're celebrating all the people who make the continued preservation of this special place possible: our staff, board, volunteers, members, visitors, community supporters, and especially —YOU! Thank you for caring about Renfrew!
Preservation Month is an annual celebration championed by the National Trust for Historic Preservation that puts a spotlight on the people in our community who are doing the important work of saving our places and building our communities through preservation. This year's theme is People Saving Places.
Historic place-savers pour their time, energy, and resources into protecting  places they care about, often without recognition. Preservation Month 2022 is for them—a national high-five to everyone doing the great work of saving places in hopes that it will inspire and empower others to do the same.
Visit the National Trust for Historic Preservation website or social media accounts for resources, stories, and special events to help celebrate Preservation Month this year. Learn more at www.savingplaces.org.
If you've ever enjoyed or appreciated the scenic beauty, natural features, history, or architecture of this special place; volunteered, supported, or shared Renfrew with others—consider yourself a historic place-saver! Your continued interest in, use of, advocacy for, and dedication to Renfrew Museum and Park is essential to achieving our mission to preserve, enhance, and promote the historic farmstead, our artifact collections, and the surrounding park.
It takes a lot of work and resources to ensure Renfrew is preserved both for our own enjoyment today and for the benefit of future generations to come. Please consider a tax-deductible donation toward our daily operations which includes the important preservation work we undertake every day to care for our              buildings, landscape, and collections. This Historic Preservation Month, give the Gift of Preservation to Renfrew Museum and Park and witness the lasting impact your generosity will make. Thank you for being a historic place-saver and Happy Preservation Month!
To make your tax-deductible Gift of Preservation online please click the "Donate to Renfrew Now" button below and select "Give the Gift of Preservation".


As a nonprofit organization, Renfrew Museum and Park relies on the generosity of people like you to help us meet our mission and continue to deliver the wonderful experiences you've come to expect from this special place.
Your tax-deductible gift of any amount is greatly appreciated.
Thank you for your support!
Donate Online Via PayPal
Please click below to make a donation to Renfrew Museum and Park. Use the dropdown menu to specify where you'd like your gift to be allocated.
Donate By Credit Card Over the Phone
Call us at (717) 762-4723.
Donate In-Person or By Check
Renfrew Museum and Park
1010 E. Main Street
Waynesboro, PA 17268