Three Days Only!
Friday, December 4, 2020 from 5:30-8:30pm
---
Saturday, December 5 from 3:30-8:30pm
---
Sunday, December 6 from 1:00-5:00pm
Renfrew Museum and Park
1010 E. Main Street
Waynesboro, PA 17268
Admission Rates
Includes Tours, Wagon Rides, Live Music, Crafts and More!
$10.00 per person
Friends of Renfrew Members: Free
Children, Ages 3-12: $5.00
Children under 2 & Under: Free
Pre-registration will close at 12:00pm on Friday, December 4, 2020. Admission may be purchased at the gate for the remainder of the weekend.
Walk Back in Time
Rediscover the simple joys of Christmas past at Renfrew Museum and Park this holiday season! "Walk Back In Time" through over 200 years of celebration at our annual Christmas on the Farm event. Follow the soft glow of flickering lanterns and the fiery blaze of torches to the beautifully decorated Museum House where you'll encounter how treasured traditions evolved over the centuries.
Explore some of our historic outbuildings where period-attired interpreters will share even more holiday cheer! Enjoy a cozy warming circle while you wait to take a horse-drawn wagon ride down Fahnestock Lane or enjoy a goodie or warm beverage from one of our vendors. Step out of the chill into the festive atmosphere inside our Visitors Center where even more family fun awaits. Peruse our gallery, then browse Renfrew's museum shop and Christkindlmarkt for that special gift. Your ticket also includes live music, crafts, and more! We invite you to join us at Renfrew this December for an unforgettable holiday experience and make memories that will last a lifetime at Christmas on the Farm.
Safety Precautions
Please observe and respect COVID-19 safety and gathering restrictions at time of event. Masks are required inside Renfrew's buildings at all times and outdoors only when a minimum distance of 6′-0″ cannot be maintained. 
This event will be held rain or shine, and is designed to be indoor-outdoor with limited occupancy permitted within buildings. There's plenty of room to spread out at multiple locations on the farmstead and maintain physical distancing. Guests are encouraged to stagger their arrival and may enter at any point during the scheduled event time on their chosen date. A period of about two hours is recommended to fully enjoy all planned activities. Sanitizing stations will be provided by Renewal By Andersen Central PA.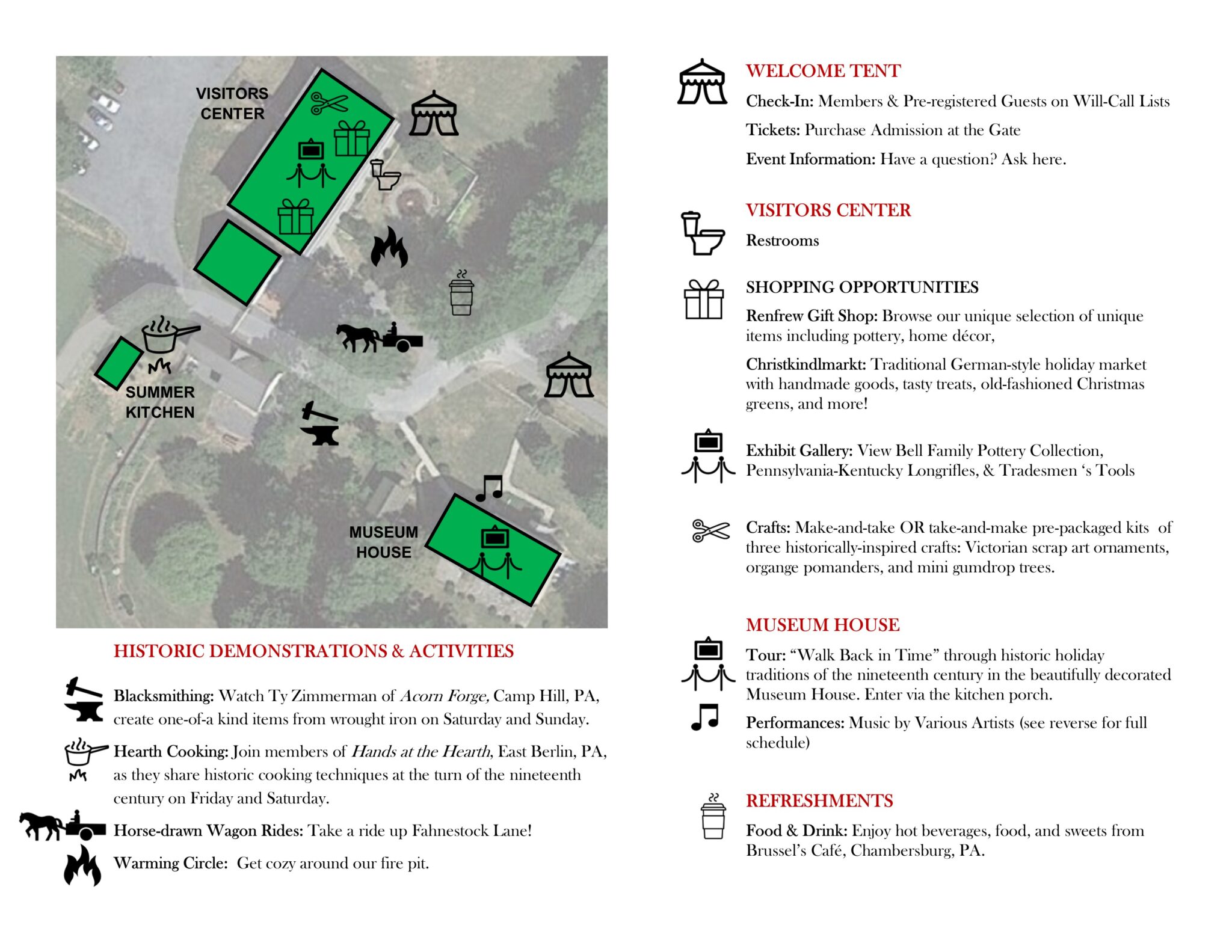 Historic Demonstrations & Activities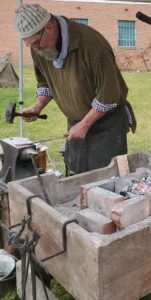 Acorn Forge: Watch blacksmith Ty Zimmerman use traditional blacksmithing techniques to create one-of-a-kind hand-forged iron wares on Saturday and Sunday.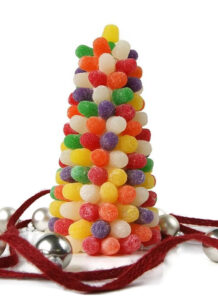 Mini Gumdrop Tree: Visions of sugarplums will dance in your head as you create a colorful tower of candy using gumdrops, foam cones, and toothpicks. Snack on them when you get home or use as decoration year after year!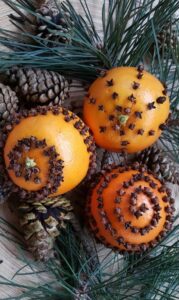 Orange Pomanders: Try your hand at creating these old-fashioned, sweet-smelling holiday decorations using the simplest of ingredients: fresh citrus and whole cloves.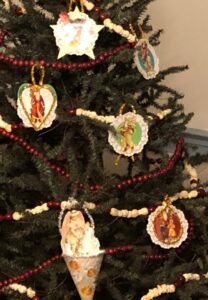 Scrap Art Ornaments: Victorians invented an inexpensive way to make beautiful holiday décor using bits and scraps they had on hand. Create your own version of historic scrap art ornaments using reproduction lithograph die-cuts, paper doilies, construction paper, and metallic pipe cleaners.
Hearth Cooking: Visit with East Berlin Historical Preservation Society's culinary history group "Hands at the Hearth" on Friday and Saturday inside Renfrew's Summer Kitchen to see what period receipts and tasty treats they'll be preparing over an open fire.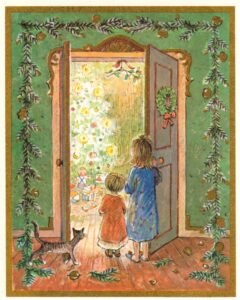 Personalized Paper Ornament: See which of Emma Nicodemus' vintage Christmas cards was selected to become the 2020 Renfrew paper ornament and have it personalized with your name in beautiful hand-written script by one of our talented volunteers.
Refreshments & Shopping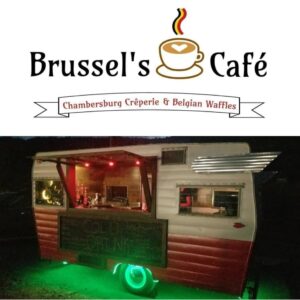 Brussel's Cafe: All three days! Choose from a dazzling menu of delicious gourmet coffee, hot chocolate, crepes, pulled pork sandwiches, and sweets to warm you up and fill your tummy as you enjoy our historic holiday event. This fantastic restaurant based in downtown Chambersburg will serve up vitals from a fully restored 1960s camper. Come hungry!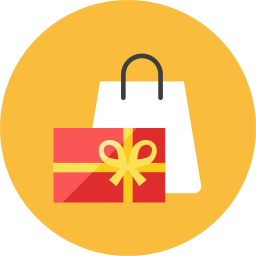 Christkindlmarkt: Stop by the Wagon Shed Room in our Visitors Center for Renfrew's mini version of a traditional German holiday market with vendors offering handmade artisan goods, vintage Christmas decorations, antiques, tasty treats, and more. You never know what you'll find!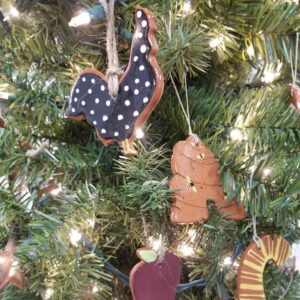 Renfrew Museum Gift Shop: Peruse our selection of unique merchandise and find the perfect gift for special someone – or yourself! Browse books, home goods, historic toys, holiday décor, apparel, pottery, handmade items, and more. Each purchase supports our mission.
Special Thanks to our 2020 Sponsors!