We invite you to enjoy an outreach program from Renfr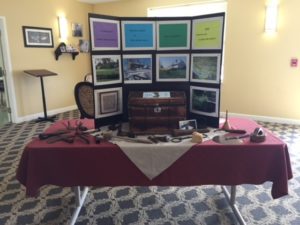 ew Museum and Park, an activity that we call "Traveling Trunk – Walk Back in Time with Renfrew Museum". We realize that many people enjoy history, but, for various reasons, they haven't visited us on their own. That was the inspiration for this program. We come to you!
When you have something in your hand, you're involved! You're engaged! You enjoy yourself! Think of it as more as an activity than a lecture!
This enjoyable and educational program is intended to last about an hour. Within this hour, participants identify or are led to learn the names of various items. According to interest we can get into discussions of how they were made, who used them, how they were used, and what went into the making of them. We usually talk a bit about the museum role in preserving and cataloging such objects. However, our main intent is to engage them in active discussions, questions and answers, and – the best part – telling stories evoked by these artifacts!
The cost of Traveling Trunk is $100.00 for a one hour session.
To schedule a program, please contact Renfrew by calling 717-762-4723 or complete the inquiry form below.