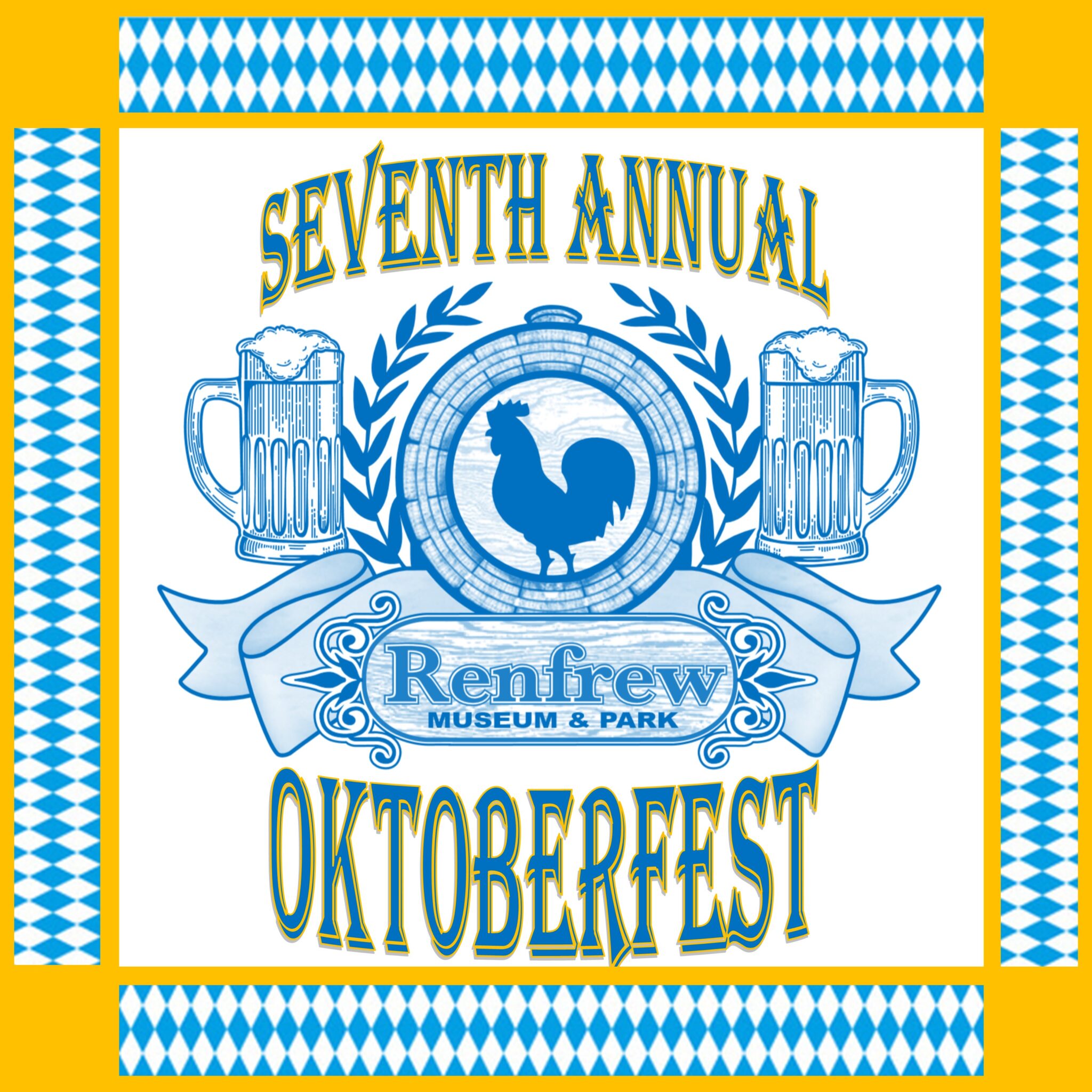 "A Family-Friendly Celebration of History and the Harvest!" Fundraiser to Benefit Renfrew Museum & Park
Saturday, September 17, 2022 from
12:00pm to 4:00pm
Tours, Activities, Live Music & Biergarten All Day
Pre-Purchased Dinner Service from 12:00-3:00pm Only
Happy Hour from 3:00-4:00pm
---
Renfrew Museum and Park
1010 E. Main Street, Waynesboro, PA 17268
Please Purchase Tickets at the Gate!
Ticket Options:
General Event Admission (12:00 – 4:00 pm, No Meal): $15 per person (age 18+) / $10 Children (ages 3-17)
Kids ages 2 & Under Admitted Free
Pre-registration is highly encouraged, but walk-ins are welcome. Please purchase general admission at the Welcome Tent upon arrival.
Full Package (Includes General Event Admission & Meal,
Meal served from 12:00 – 3:00 pm ONLY):
$35 per person (age 18+) / $25 Children (ages 3-17)
Kids ages 2 & Under Admitted Free
Limited meal tickets available. Pre-registration is highly encouraged and required by 4:00pm on Thursday, September 8, 2022.  No refunds provided after this date. NEW! Thanks to the generosity of our event sponsors, limited Full Package Tickets will be available for purchase at the gate on day of event, but pre-registration is your best bet to ensure you get lunch at Oktoberfest.
Ein Prosit!
Come enjoy a fun-filled day at Renfrew's Seventh Annual Oktoberfest Fundraiser!  This seasonal favorite is held at our beautiful historic farmstead to take full advantage of the scenic autumnal views in a unique period setting.  As always, this traditional signature event will have a distinctive Renfrew feel as we honor the German roots of the Royer family that worked this land. It's fun for everyone with a one-of-a-kind family-friendly celebration of history and the harvest! Your admission includes entry into the festival featuring live traditional music, full tours of the 1812 Royer House, historic trade demonstrations, silent auction, family fun area, farmstead activities, and so much more! Relax in our fenced, tented Biergarten and sample local craft beer offerings. With so much to do, you're bound to have a great time! Show your support for Renfrew's German heritage as we celebrate Oktoberfest together.
Oktoberfest is an outdoor event and will be held rain or shine, unless in the case of severe weather. Please be prepared for all conditions by dressing appropriately for the season. Those who have pre-purchased admission may check in at Welcome Tent upon entry. Cancellations by guests not eligible for refunds. General admission tickets (no meal) will be available for purchase at the gate. German themed meal only available from 12-3pm with Full Package pre-purchased ticket. Limited number of meals available. Pre-registration highly encouraged! Those attending Biergarten, must be prepared to present valid drivers license or state ID at time of purchase. Please drink responsibly and designate a driver. Parking is located in the Lower Lot off of Welty Road or in Upper Lot off of Buchanan Trail/Main Street. Restrooms are located at the Visitors Center. Questions regarding Renfrew's Seventh Annual Oktoberfest may be emailed to info@renfrewmuseum.org or call us at (717) 762-4723.

Click to view Event Map.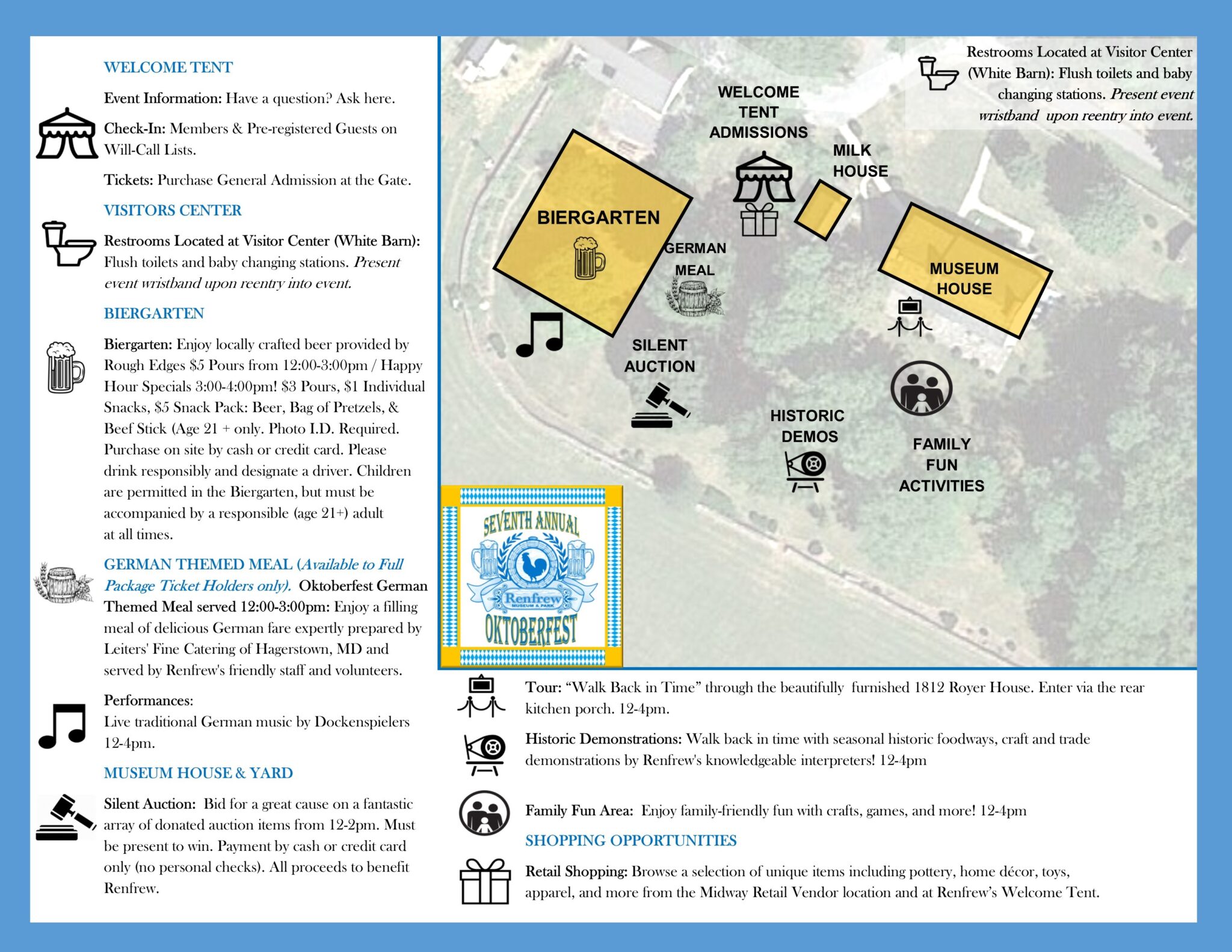 Available for Purchase at the Event:
Biergarten: $5 Pours from 12:00-3:00pm / $3 Pours from 3:00-4:00pm (Age 21 + only. Photo I.D. Required. Please drink responsibly and designate a driver.)
Snacks: $1 Individually-wrapped snacks including bags of pretzels, beef sticks, and desserts available throughout the day while supplies last. NOTE: If you'd like to eat lunch at Oktoberfest, please purchase a Full Package Ticket. No other meal options are available.
Merchandise: $5 Renfrew Oktoberfest commemorative mugs; Select items from the Gift Shop including seasonal décor, Renfrew honey, branded hats, mugs, and more!
Traditional German Music
Dockenspielers
Live Performances from 12:00pm to 4:00pm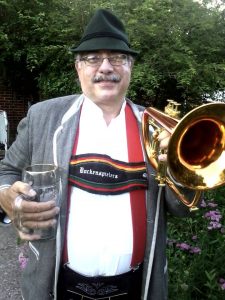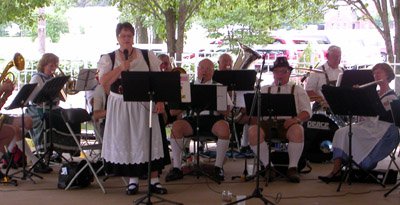 Dockenspielers German Band
Dockenspielers of York, PA is a band of musicians who perform authentic Germanic music in the style of a Bavarian Blaskapelle, such as would be found at Munich's Oktoberfest. Dockenspielers is a concert style band of 15 to 20+ brass, woodwind and percussion musicians who perform traditional Germanic marches, polkas and waltzes, while wearing Lederhosen and Dirndls, which are known as Trachten. Vocal selections are performed "auf deutsch" in various dialects of German language.
Dockenspielers was founded in 1977 by Dr. John Whiteley, who was a physician at York Hospital in York, PA. The band included 5 physicians, so Dr. Whiteley combined "Doc" for Doctor (German Docktor) and "Spiel", a German word meaning "play", as in musical performance, so the name means "Doctors performing music". Over the years, musicians of other occupations have been added, but two physicians currently perform, including one of the original 5. About a year before Kapellmeister Dr. Whiteley died in 2001, he asked Kirk Frey to lead the band. In December 2000, Kirk Frey became Kapellmeister Dockenspielers, leading the band up to the present day.
Biergarten
Open 12:00pm to 4:00pm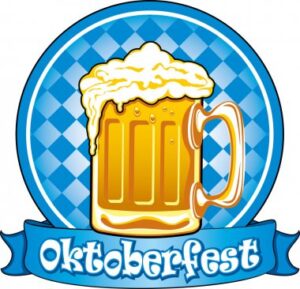 $5 Craft Beer Pours 12:00-3:00pm
Purchase on site by cash or credit card.
Age 21 + only. Photo I.D. Required. Please drink responsibly and designate a driver. Children are permitted in the Biergarten, but must be accompanied by a responsible (age 21+) adult at all times.
Happy Hour Specials 3:00-4:00pm!
$3 Pours
$1 Individual Snacks
$5 Snack Pack: Beer, Bag of Pretzels, & Beef Stick

Oktoberfest German Themed Meal
Available for Full Package Ticket Holders Only
Served from 12:00pm to 3:00pm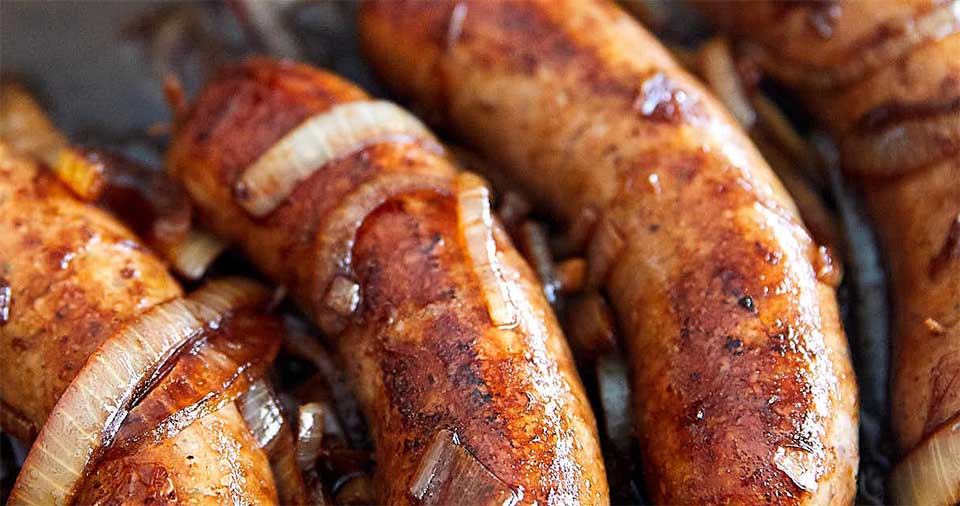 Enjoy a filling meal of delicious German fare expertly prepared by Leiters' Fine Catering of Hagerstown, MD and served by Renfrew's friendly staff and volunteers.
Available to Full Package Ticket Holders only.
Pre-purchase is required.

Full Museum House Tours
Open 12:00pm to 4:00pm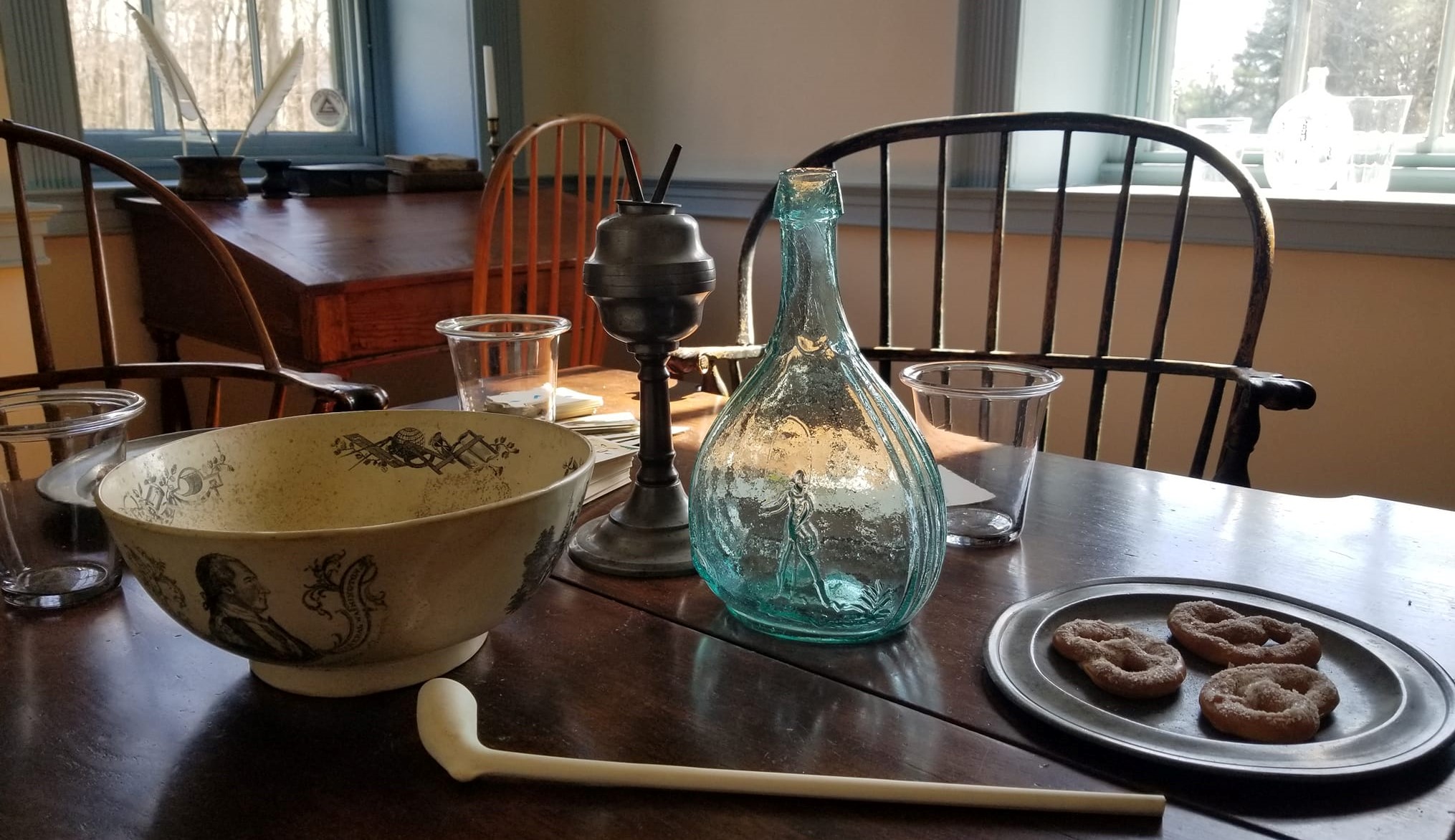 Enjoy guided tours of Renfrew's Museum House during Oktoberfest! Explore both the first and second floors of the 1812 stone Royer House, beautifully furnished with eighteenth and nineteenth century decorative arts from our museum collections. Discover the story of the Royers, Nicodemuses, and others who once called this place home and be sure to check out our many Pennsylvania German artifacts on display including baskets, kitchen utensils, pottery, frakturs, dower chests, and more! Tour last about 35-40 minutes.
Museum House tours are included with general admission. Photographs are permitted. To protect our precious artifacts we request no flash, please. Enter via the rear kitchen door to the right of the Milk House. Your exit will be through the hall door onto the front lawn. Show wristband at Welcome Tent for re-entry into Oktoberfest event. Please note that the Museum House is not handicapped accessible. 
Historic Demonstrations
Open 12:00pm to 4:00pm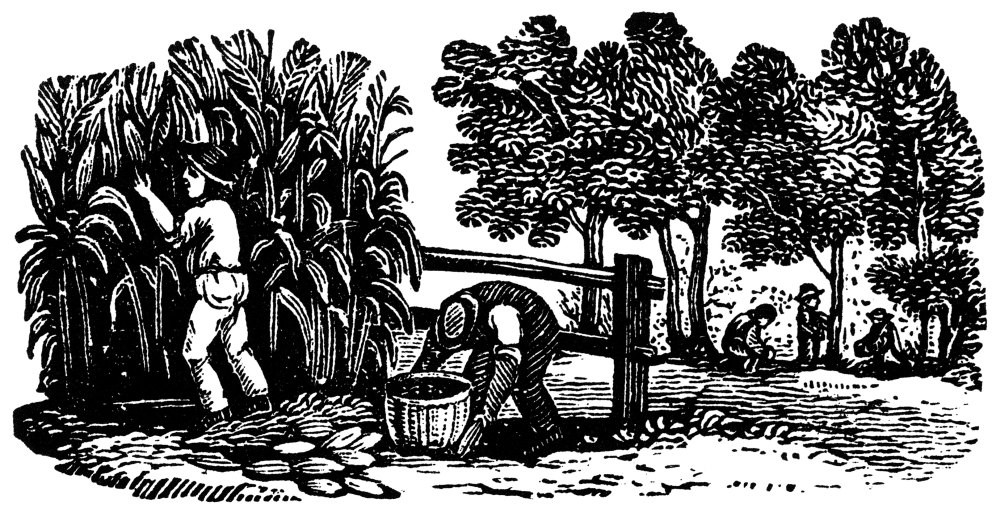 Walk back in time with seasonal historic foodways, craft and trade demonstrations by Renfrew's knowledgeable interpreters! Learn about autumnal activities from the past and how early farm families like the Royers and Fahnestocks worked and celebrated at harvesttime in the nineteenth century.
Living history demonstrations are included with general admission with several opportunities for interesting conversation and hands-on participation throughout the day!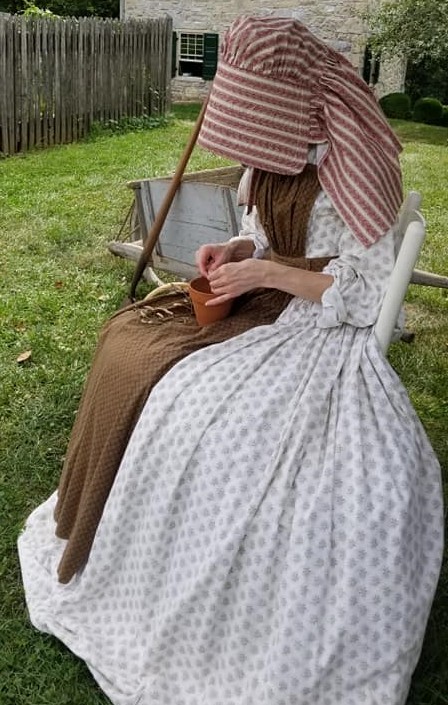 Family Fun Area
Open 12:00pm to 4:00pm

Make. Play. Do! Keep busy with a great selection of hands-on activities in Renfrew's Oktoberfest Family Fun Area.
Included with General Event Admission. Activities available while supplies last. Children must be accompanied by a responsible adult at all times.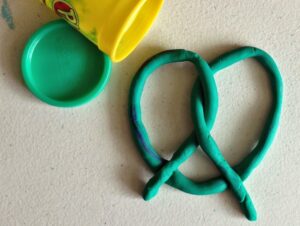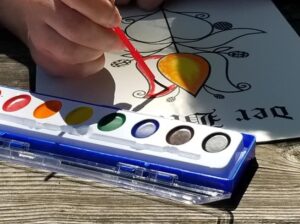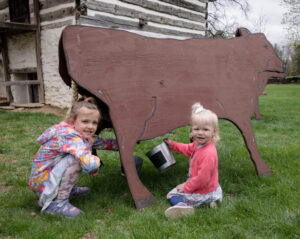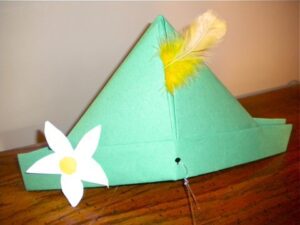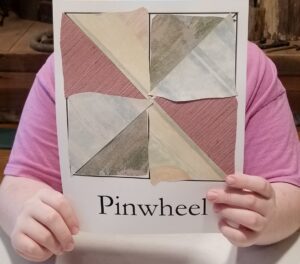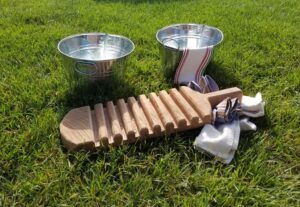 Farmstead Chores & Period Games
Silent Auction

Bid from 12:00pm to 2:00pm. Winners announced at 2:30pm.
Pick-up from 2:30 to 3:00pm. Must be present to win.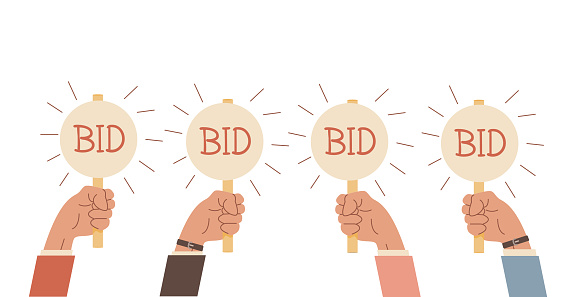 Join us for the Oktoberfest Silent Auction and bid for a great cause on a fantastic array of 80 auction listings including gift certificates, merchandise, services, cultural experiences, workshops, gourmet food, home décor,  handmade goods, and more! Bidding will take place in-person on the day of the event. Must be present to win. Payment by cash or credit card only (no personal checks). All proceeds to benefit Renfrew.
Shown here is just a handful of the fabulous donated items being offered in this year's auction. Be sure to attend Oktoberfest between 12:00pm and 2:30pm for your chance to bid – and win!
Seeking Event Support!
Renfrew is currently seeking Oktoberfest sponsors to help us present a great community event!
Looking for a way to promote your business and support a great cause? Click on the icon at your desired level below for more information on a host of valuable benefits.
Thanks to Our Generous Sponsors!