In an effort to do our part in keeping our community safe and healthy during the coronavirus situation, Renfrew Museum and Park has adopted an institutional COVID Pandemic Reopening Plan which may affect our program and events schedule. Check back often for updates, call us (717) 762-4723, or email us at info@renfrewmuseum.org for additional information.
WORKSHOP: Scherenschnitte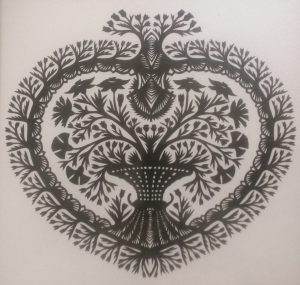 POSTPONED – New Date TBD
Presented by Bill Hammann
Originally scheduled for Saturday, May 2, 2020 from
1:00pm to 4:00pm

Wagon Shed Room – Visitors Center
1010 E. Main Street, Waynesboro, PA 17268
$20 per person / $10 for Renfrew Members
Limit 15. Reservations required.
Purchase admission via PayPal or
RSVP by phone to (717) 762-4723.
AVAILABILITY: 8 seats remaining
Scherenschnitte, a centuries-old scissoring tradition was brought to America as early as the 1700's. German immigrants continued this art in the New World. Pennsylvania Germans used it as a medium for valentines, marriage and birth records, and love letters. Learn the basics of this beautiful craft with instructor Bill Hammann as you cut your own delicate images turning plain, ordinary paper into a historically-inspired work of art.
ABOUT THE INSTRUCTOR:

Bill Hammann is a retired Army Chaplain who lives in Blue Ridge Summit, PA.  Bill is a longtime supporter of Renfrew Museum and Park and actively teaches scherenschnitte classes at the Blue Ridge Summit library.
PRESENTATION: The Bell Family - A Pottery Making Dynasty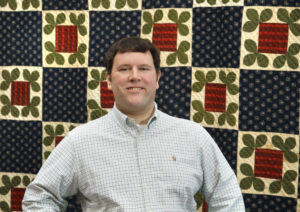 POSTPONED – New Date TBD
Presented by Nick Powers, Curator of the Museum of the Shenandoah Valley
Offered as TWO SESSIONS 
---
MORNING from 10:30am to 12:00pm
AVAILABILITY: 0 seats remaining
---
AFTERNOON from 1:30pm to 3:00pm
AVAILABILITY: 0 seats remaining
---
Free Admission. Advance reservations required.
This program is currently SOLD OUT, with registrants form the original date of March 28, 2020 receiving first right of refusal when a new date is announced. We apologize for any inconvenience. Additional sessions may be added in the future based on speaker availability.