PRESENTATION: Ward Hill Lamon Recounts the Life of Abraham Lincoln as President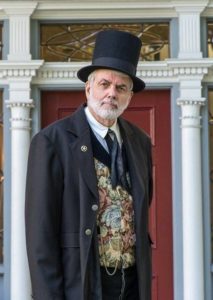 Presented by Bob O'Connor
Saturday, February 8, 2020 at 1:00pm
Wagon Shed Room – Visitors Center
1010 E. Main Street, Waynesboro, PA 17268
$5 per person / Free for Renfrew Members
Purchase admission via PayPal by clicking the button below.
RSVP by phone to (717) 762-4723 or email info@renfrewmuseum.org.
The Royers and Fahnestocks lived through a time of rapid change as the fledgling United States grew during the nineteenth century. No single issue divided the country more during their lifetime than slavery, and no historical figure embodies this turbulent era more than President Abraham Lincoln. Even in rural Franklin County, the life of Abraham Lincoln was a subject of great interest to many citizens once he rose to national prominence and even more so following his death.
In honor of President's Day, join author and historian Bob O'Connor as he examines the life of Abraham Lincoln through the eyes of attorney Ward Hill Lamon. A close friend of the sixteenth president, Lamon served as a lawyer on the 8th Judicial Circuit of Illinois after relocating from his native Mill Creek, VA (now Bunker Hill, WV) in 1846 . No one had as much access to Abraham Lincoln during his presidency than Ward Hill Lamon who spent many a night sleeping outside the president's bedroom on the floor to protect his friend from harm. But in early 1865, Abraham Lincoln sent Lamon on assignment and went to Ford's Theater against his bodyguard's advice. The rest is history.
This engaging first-person presentation is based on the Lamon papers discovered by O'Connor himself at The Huntington Library in California. The previously unpublished manuscript, written circa 1880, was edited by O'Connor and released in 2010. Bob has also written a historical fiction account of the life of Ward Hill Lamon, the only work on Lamon to date, titled "The Virginian Who Might Have Saved Lincoln" (Infinity Publishing, 2007). It has been named finalist in both the Best Book Awards and The Indie Excellence Awards. Copies of both books will be available for purchase.
WORKSHOP: Floorcloths

Presented by Steve and Becky LaBarre
Saturday, February 22, 2020 from
10:00am to 1:00pm
Wagon Shed Room – Visitors Center
1010 E. Main Street, Waynesboro, PA 17268
$30 per person / $15 for Renfrew Members
Limit 12. Reservations required.
Purchase admission via PayPal or
RSVP by phone to (717) 762-4723.
AVAILABILITY: 3 seats remaining
Do you enjoy the folksy look of painted canvas floorcloths? Ever wanted to make one of your own? Discover the beauty and history of this traditional craft with historians Steve and Becky LaBarre. Following an illustrated presentation about the history of painted floorcloths, you'll create a mini-mat of your own using period techniques that you can replicate on larger pieces at home. Participants receive a prepared 18″ x 18″ blank canvas mat. Paint and stencils will be provided. Class size is limited to twelve (12) so make your reservation today! Children ages ten and up are welcome to attend with a responsible adult.
PRESENTATION: The Bell Family - A Pottery Making Dynasty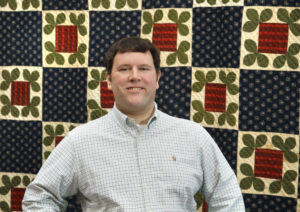 Presented by Nick Powers, Curator of the Museum of the Shenandoah Valley
Offered as TWO SESSIONS on Saturday, March 28, 2020 
MORNING from 10:30am to 12:00pm
AFTERNOON from 1:30pm to 3:00pm
Free Admission. Advance reservations required. RSVP by completing the web-form below or call us at (717) 762-4723.