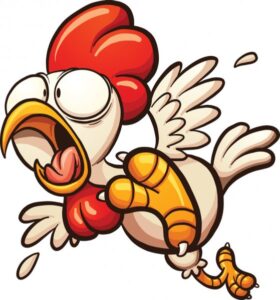 After being cooped up all winter, we can't wait for spring here at Renfrew Museum and Park! Help us get our historic Pennsylvania German farmstead ready with continuing our Clear The Coops Challenge. Last year we raised $2,336, but there are many roosters still remaining cooped up—$2,714 worth to be exact.
How to release the roosters:
Select a donation value by clicking a numbered image below, then make your tax-deductible gift to release the roosters! The numbers may look small with gift choices ranging from $1 to $100, but that's no chicken scratch. The goal is to work together to clear each of the four coops. Coop A is fairly easy, with twenty-five donation values totaling just $325. Each successive coop is a little bit more challenging, with higher donation values. When the whole board is cleared, Renfrew will have raised a total of $5,050. That's plenty to crow about!
Giving will help support our springtime operational needs including grounds-keeping, heirloom gardens, historic foodways programming, Terrific Tuesdays family activities, and more. Our 47th Opening Day is Saturday, April 9, 2022. Let's work together to Clear The Coops at Renfrew this spring!
Donations can also be made via PayPal to info@renfrewmuseum.org or by calling us at (717) 762-4723. If you wish to divide your total gift among several values in a single transaction, please call the office and we'll process it for you. Thanks for your support!
Coop A is clear - $325 Raised!
$12
WACCO Properties, Inc.
$13
WACCO Properties, Inc.
$25
Mark & Patti McLaughlin
Coop B is clear - $950 raised!
$28
McLaughlin Energy Services
$29
McLaughlin Energy Services
$30
McLaughlin Energy Services
$31
McLaughlin Energy Services
$33
McLaughlin Energy Services
$34
McLaughlin Energy Services
$35
McLaughlin Energy Services
$36
McLaughlin Energy Services
$37
McLaughlin Energy Services
$38
McLaughlin Energy Services
$39
McLaughlin Energy Services
$40
McLaughlin Energy Services
$41
McLaughlin Energy Services
$49
McLaughlin Energy Services
$50
Gil & Laurie Hovermale
$25 – Max Creager & Jill Kessler
$18 – 2021 Opening Day Visitors