40th Annual Encampment
---
Saturday, August 8, 2020
Hours TBD
---
Sunday, August 9, 2020
Hours TBD
---
Free Admission to Camps and Demonstrations, Free Parking
*Royer Farmstead Day Tour not included. Admission may be obtained in the Renfrew Visitors Center.
Discover the impact the American Civil War had on families across the country, including right here in Waynesboro.
The Renfrew Civil War Encampment isn't all cannons and gunpowder, glory and gusto. For us, it's an opportunity to pause and reflect on a pivotal turning point in our nation's history and, more importantly, to remember what took place on this very property in the summer of 1863 when the war's effects arrived on our doorstep.
This event gives guests a glimpse into daily life for civilians and soldiers during the Civil War. Spectators are encouraged to visit the camps — Union, Confederate and civilian — for demonstrations of period dress, food and lifeways, medicine, military life, and to strike up conversations with event participants. Be prepared to hear a variety of perspectives, as numerous as the people who truly lived through this turbulent time. Take time to listen, share, question, remember, learn, and perhaps agree to disagree. We invite you to walk back in time to the Civil War Era this weekend at Renfrew.
Saturday, August 8
Planning for the 2020 schedule is  underway.
Sunday, August 9
More information to follow.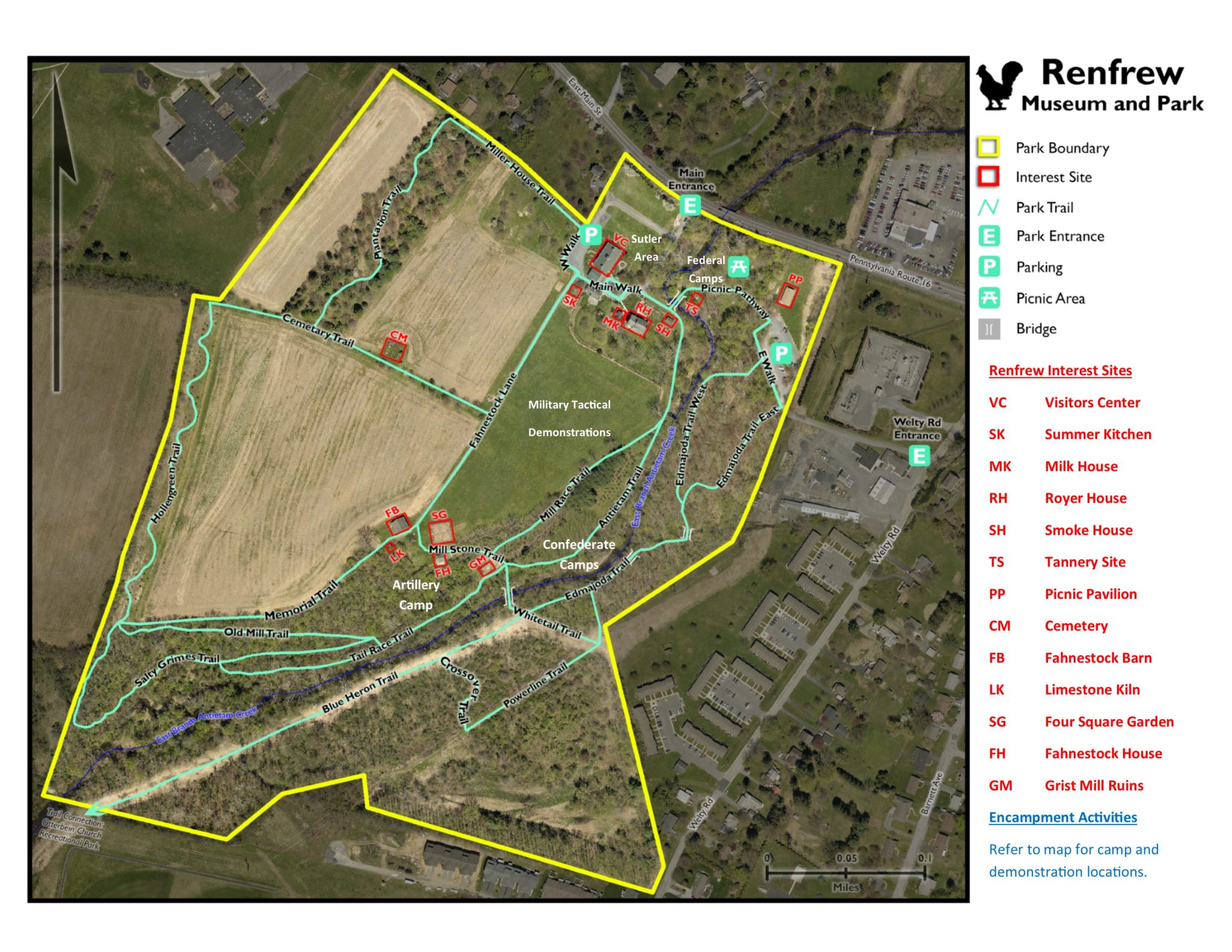 Living historians and reenactors from around the nation are invited to share their period impression as a part of the Renfrew Civil War Encampment. Registration for the 2020 event has not opened.
RENFREW MUSEUM AND PARK IS AN ALCOHOL AND SMOKE-FREE FACILITY.
No consumption of adult beverages, smoking, or vaping is permitted on site. Participants registering for this event are subject to the Park Use Policies and Facilities Use Agreement entered into by 139th Pennsylvania Volunteer Infantry, Co. F on their behalf and must abide by all park rules as well as any event-specific guidelines. Remember, our guests will think of you as an extension of Renfrew Museum and Park's regular programming. While you are a guest yourself, you are also a representative of Renfrew while camping at the park. Please act in a courteous, respectful, and responsible manner at all times.