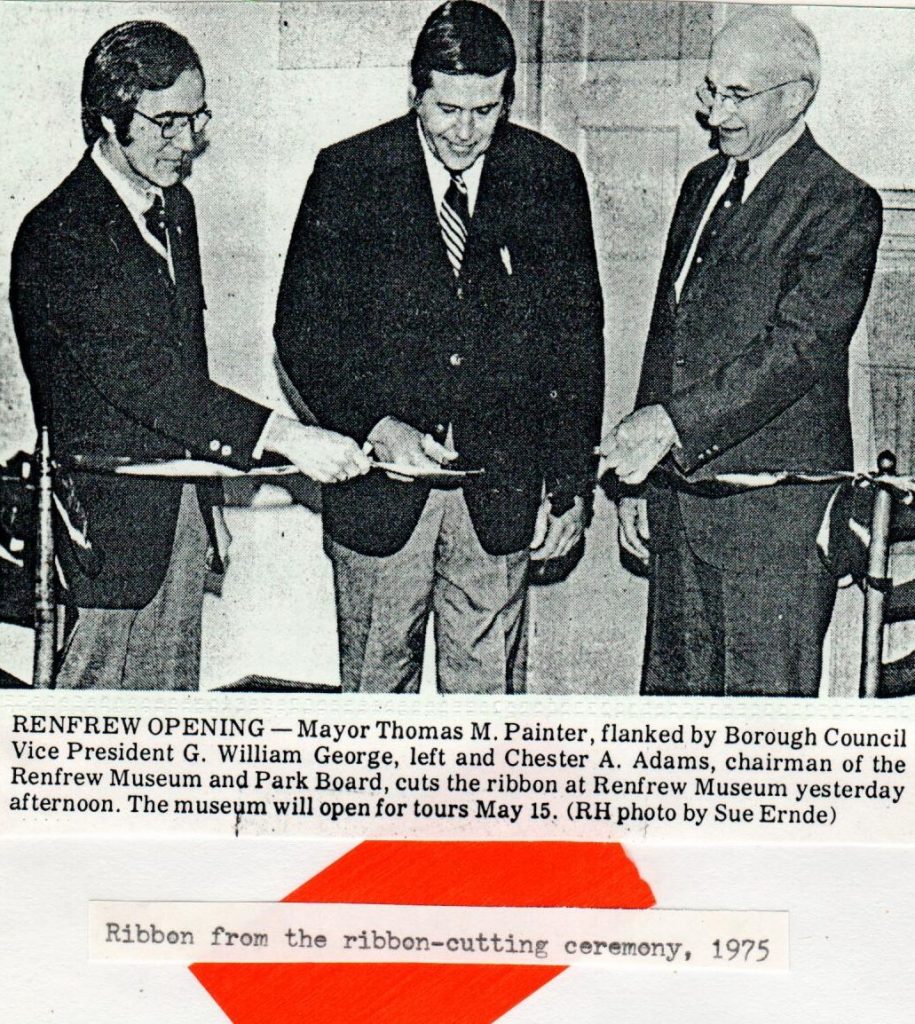 April 3, 2020, marks the 45th anniversary of Renfrew Museum and Park's ceremonial opening to honor the wishes of Emma Nicodemus, the last private owner of this property who requested it become a museum and park for the public when she passed in 1973. In her will, Emma gave the Borough of Waynesboro eighteen months to open her home as a museum and two years to transform the grounds of her estate into a public park. Not wanting to miss her deadline, the original board of Renfrew finished enough of the work to open the house by April 3, 1975. However, rather than a grand public celebration, it was a small gathering by invitation only since there was much more to be done to turn the historic Royer House into what Emma had envisioned.
To create a more complete picture of what they believed Emma wanted, a little more time was needed. So, after closing the very next day, the remainder of the month of April was dedicated to finishing touches, and the museum finally opened to the public on May 15th, 1975. The park, having a longer time-frame for completion, opened for use on July 5, 1976. Over the years, both the park and museum saw improvements and transformations to create the wonderful treasure we've known and loved four four-and-a-half decades.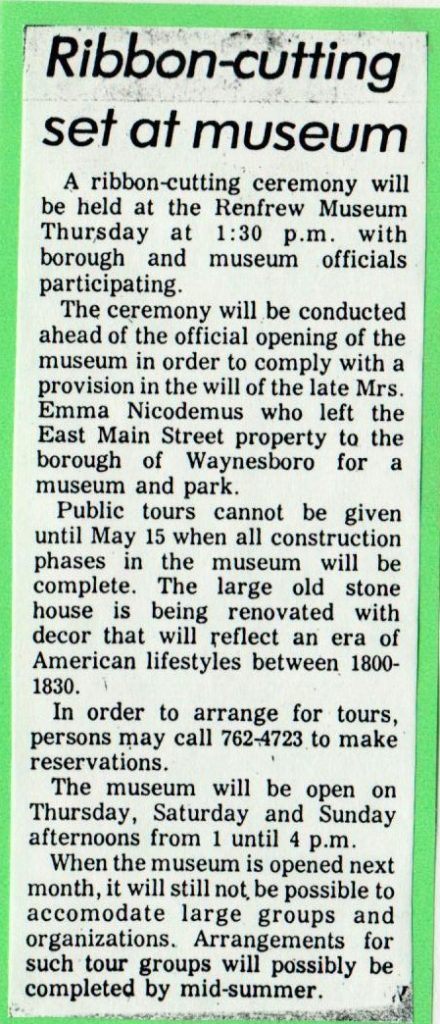 While we had planned a great celebration for this anniversary date of tours in the afternoon and a 1970s-themed party this evening with our members, supporters, neighbors, and friends, current events have caused us to mark this momentous occasion apart. And though it's hard to know what the future holds in this time of uncertainty, we can rest assured in the comfort that, because of Emma's vision along, the hard work of all who've come before, and the stewardship of everyone involved today, Renfrew Museum and Park will still be here when all of this is over.
So, let's celebrate! Cheers to the past, the present, and our very bright future! Wherever you are today, tell someone how much Renfrew means to you. Encourage them to visit this special place when life gets back to normal, and hold the hope in your heart that you too will be back at Renfrew sometime soon.
Share your special memories of Renfrew over the last 45 years! Whether you've been with us since the beginning or are brand new to the community, we'd love to hear from you. Email your reminiscences to info@renfrewmuseum.org and we'll include them on this web-page as a part of our virtual birthday party!